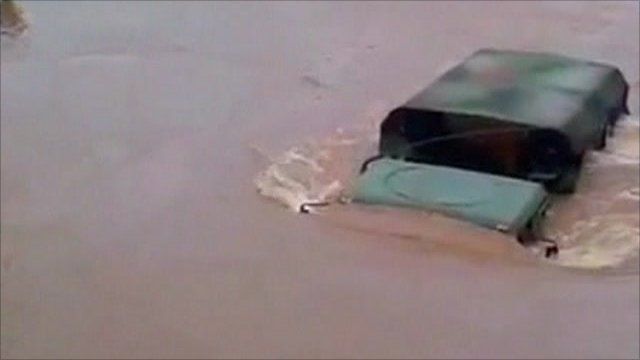 Video
US floods: National Guard trucks swamped by floodwater
Towns and cities across the northern United States have been counting the cost after Hurricane Irene struck, causing flooding, power cuts and widespread devastation.
More than five million people remain without power, while Vermont is reeling from its worst floods in many decades.
Insurance claims could top $7bn (£4.3bn), the Consumer Federation of America estimated.
An eyewitness captured video of two National Guard trucks attempting to drive through the submerged streets of Manville, New Jersey, in water so deep that only the vehicles' roofs could be seen at one point.
Eventually the occupants could be seen clambering out of the trucks and onto the roof.
Pictures filmed by Scott R Manville
Go to next video: US hurricane death toll rising