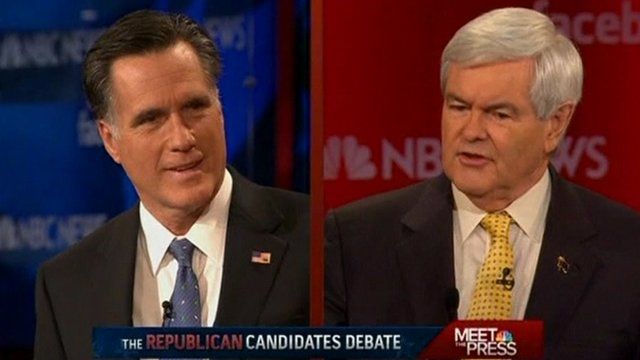 Video
Republican Mitt Romney under fire from opponents
US Republican front-runner Mitt Romney has come under fire from fellow contenders ahead of Tuesday's primary vote in the state of New Hampshire.
At a nationally televised debate on Sunday, the former Massachusetts governor's economic programme was called "timid" and his conservative credentials were also questioned.
Mr Romney has a lead over his rivals since his narrow win in Iowa last week.
Fellow contenders Rick Santorum and Newt Gingrich challenged Mr Romney, with Mr Gingrich telling him to "drop this pious baloney" after Mr Romney claimed he was not a career politician.
Go to next video: John McCain endorses Mitt Romney