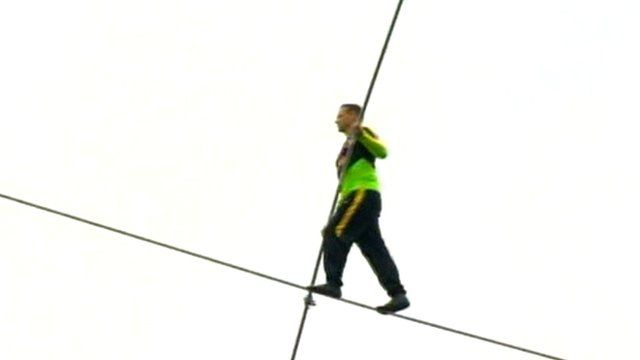 Video
Wallenda stumbles on Baltimore Inner Harbour highwire walk
Nik Wallenda - part of the Wallenda highwire dynasty - has successfully made a walk 100 feet (30m) above Baltimore's Inner Harbour.
The 33-year-old used no safety devices for the 300 feet (91m) journey and gave crowds and the event's commentator a shock when he wobbled towards the end.
His great-grandfather Karl Wallenda, founder of The Flying Wallendas circus act, did the same walk over the harbour in 1973.
This summer, Wallenda is set to become the first person in more than a century to walk a tightrope over Niagara Falls, after being granted rare permission.
Go to next video: US slackliner crosses China canyon