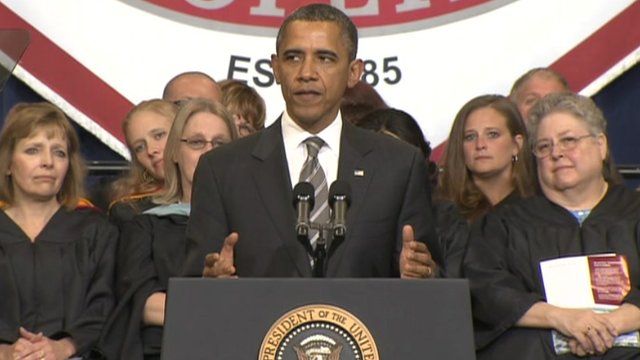 Video
President Barack Obama speaks to tornado-hit grads
A year ago, a deadly tornado destroyed the city of Joplin, Missouri, killing 161 people.
The storm touched down hours after Joplin High School's graduation.
On Monday, President Barack Obama spoke at Joplin High School's graduation ceremony to commemorate the nation's deadliest tornado in 60 years and Joplin's response to it.
In the speech, Mr Obama said the story of Joplin was not just the tornado's destruction but the way the city and its people responded to it.
"Class of 2012, that story is yours," Mr Obama said. "You've learned at a younger age than most of us that we can't always predict what life has in store."
Go to next video: US tornadoes captured on film