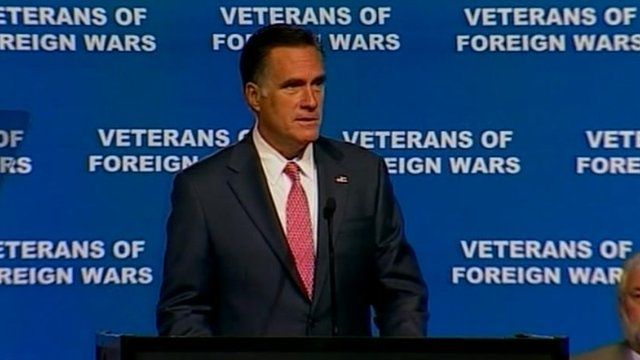 Video
Mitt Romney: US will stay 'strongest nation on earth'
Republican presidential candidate Mitt Romney attacked President Barack Obama's record on foreign policy in a speech ahead of his first overseas visit as Mr Obama's electoral rival.
"If you don't want America to be the strongest nation on earth, I am not your president," Mr Romney said. "You have that president today."
Mr Romney made his remarks on the eve of a campaign visit to Britain, Israel and Poland.
On Monday, when President Barack Obama addressed the same conference, he criticised Mr Romney for opposing the White House timetable for 2014 withdrawal from Afghanistan, and said the former Massachusetts governor would have maintained a presence in Iraq indefinitely.
Go to next video: Batman star visits Colorado memorial