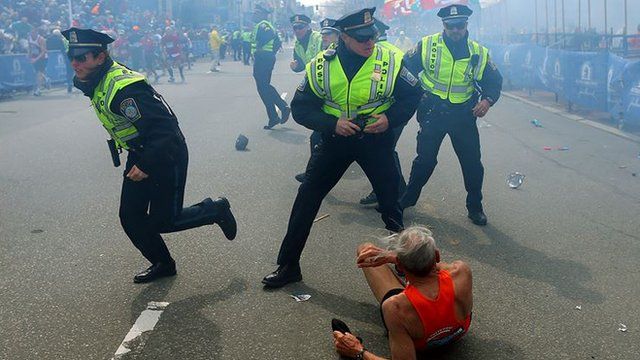 Video
'I saw a fireball and smoke'
An investigation is under way after two explosions near the finishing line of the Boston Marathon left three people dead and at least 140 injured.
The FBI has taken over co-ordination of what it described as a "potential terrorist inquiry".
Boston police say officers are working around the clock and all leave has been cancelled.
At least 17 people are critically wounded, officials say, and the injuries include several amputations.
Fatma Tanis, a student journalist who was at the finishing line, explained to Today presenter Justin Webb What she had witnessed.
A homeland security specialist at the Centre for Strategic and International Studies in Washington, Rick Nelson, said it was too early to say who was responsible: "Two explosions have been reported by the media, they were near simultaneous, that shows some level of complexity."
"It shows perhaps it wasn't just one person but a group of individuals. Obviously by the placement of these explosives they were looking arguably for the maximum media value," he added.
Broadcast on BBC Radio 4's Today programme on Tuesday 16 April 2013.