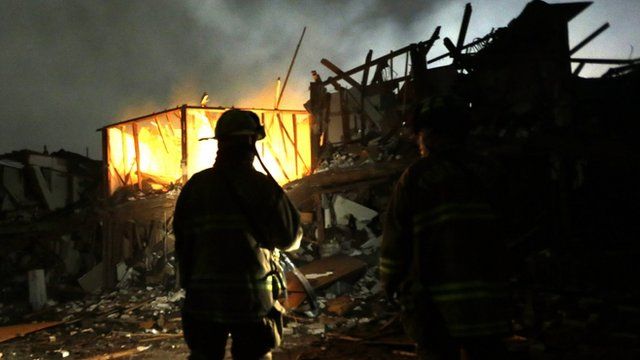 Video
Texas blast 'knocked us out of our chairs'
Scores of people are injured and an unknown number are dead after a huge explosion at a fertiliser plant near Waco in the US state of Texas.
Dozens of homes and buildings have been destroyed, and several are still on fire, after the West Fertilizer plant exploded at about 19:50 (00:50 GMT).
Some people are thought still to be trapped in buildings and a number of firefighters are reported missing.
Emergency services officials said ammonia may have caused the explosion.
Jody Claridy, who witnessed the blast told today presenter John Humphrys that "it knocked us out of our chairs."
"It felt like the whole building lifted up off the foundation," she added.
First broadcast on BBC Radio 4's Today Programme on Thursday 18 April 2013.