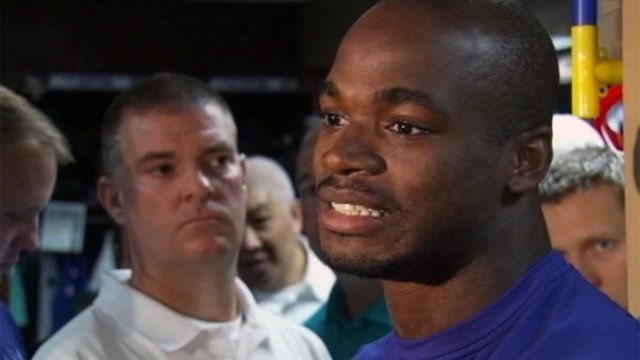 Video
Peterson: Football gets me through
The two-year-old son of an American football star has died after allegedly being beaten by the son's mother's boyfriend, police and media have said.
Joseph Patterson, 27, has been charged in the child's beating, and may face additional charges in the death.
The boy's father Adrian Peterson of the Minnesota Vikings is one of the top running backs in professional football.
In the Vikings locker room on Friday, Adrian Peterson asked for privacy, said he would "stay prayed up", and told reporters he planned to play in Sunday's game against the Carolina Panthers.
"Football is something I will always fall back on," he said.
"It gets me through tough times. Just being around the guys in here, that's what I need in my life, guys supporting me, and just being able to go out and play this game I love."