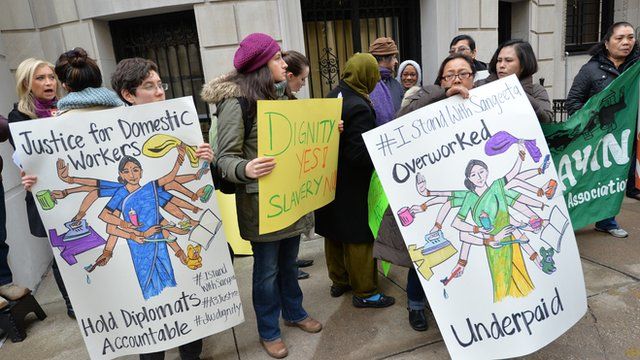 Video
Devyani Khobragade: New York maids protest at Indian consulate
Domestic workers who were exploited and abused in the US by foreign diplomats have held a rally outside the Indian consulate in New York.
It was the latest development in an international row sparked by last week's arrest of Indian diplomat Devyani Khobragade on suspicion of visa fraud and making false statements.
She was accused of underpaying her Indian maid Sangeeta Richard, but she has denied all the charges and was later released on bail. The Indian government has reacted angrily claiming Khobragade is a victim.
The protestors outside the Indian consulate said they wanted to highlight the plight of the maid in the case. They are calling for all countries to agree minimum legal standards of work.
The BBC's Nada Tawfik reports; filmed and edited by James Cooke.
Go to next video: Kerry 'regret' over Indian diplomat row