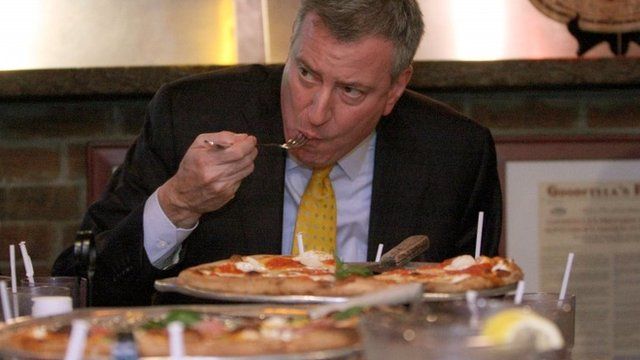 Video
Should you eat pizza with a fork?
New York journalist Bill Hoffman explains why some New Yorkers have mocked Mayor Bill de Blasio for using cutlery to eat a pizza.
New York Mayor Bill de Blasio may have bitten off more than he could chew at a photo opportunity in a pizza restaurant.
Video showed him tucking into his meal using a knife and fork - while New York tradition demands that pizza should be eaten with the hands.
The mayor has been widely lampooned in US media for his alleged culinary gaffe.
But he defended his etiquette, citing his Italian-American roots.
New York journalist Bill Hoffman explained to 5 live Breakfast why some New Yorkers mocked the mayor for using cutlery.