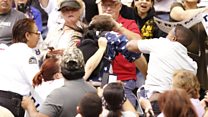 Video
US Election 2016: 'Someone could get killed' at a Trump rally
Anger levels are so high that "someone could get killed" at a Donald Trump rally by Election Day, said Republican Party strategist Frank Luntz.
"I think people are going to get very badly hurt if this isn't stopped. And I am actually afraid that someone could get killed between now and election day," Mr Luntz said on the Today programme.
Donald Trump's campaign manager Corey Lewandowski was charged on March 29 with assaulting a journalist at a campaign event."
Mr Lewandowksi is absolutely innocent of this charge," a Trump statement said.