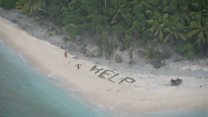 Video
The men were missing for three days after their boat sank
The US coast guard spotted castaways stranded on remote island near Micronesia three days after their boat capsized in south Pacific ocean.
Chief Petty Officer at the US Coast Guard's Hawaii Pacific division Sara Mooers told BBC Radio 5 live: "On the third day of the search we received support for the US Navy."
She added: "Two hours into the search pattern they were flying on our behalf and they saw that help sign."