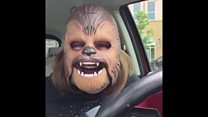 Video
Chewbacca mask woman becomes a viral hit
Candace Payne, a mother of two from Texas, filmed herself trying on a Chewbacca mask and became the highest viewed video on new Facebook Live video platform ever.
As of Friday afternoon, almost 40 million people had watched Ms Payne's gleeful video.
"Oh, I'm such a happy Chewbacca!" Ms Payne shouts.
(Update: As of early Saturday, the video has had 91 million views.)
Go to next video: 'Giant' spider spooks US weatherman