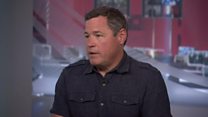 Video
Alligator boy's parents 'not to blame'
A two-year-old boy has been killed after being dragged into the water at DisneySeven Seas Lagoon at Disney's Grand Floridian resort.
Animal expert Jeff Corwin tells the BBC that humans are most vulnerable to alligator attacks around water, and the attack was an "anomaly".
He said it was a very "unnatural event" and the family had not done anything wrong, but the alligator took advantage of a "small-sized body".
Mr Corwin said not much could be changed to prevent another attack.
Go to next video: 'Parents tried to rescue child from alligator'