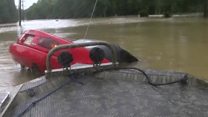 Video
Louisiana floods: Woman and dog pulled from sinking car
Dramatic footage captured by a television channel in Louisiana shows the moment a woman and her dog were saved from a car sinking in flood waters.
Local channel WAFB was with one rescue crew near Baton Rouge on Saturday when they came across a sinking car.
One man, David Phung, dived into the water to make a daring rescue.
Go to next video: 'Everybody's houses are going under'