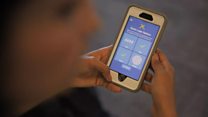 Video
Will selfies kill the traditional password?
In a world increasingly dependent on online transactions - from paying your credit card bill to setting your thermostat - web security is more important than ever. But one company says the traditional passwords don't cut it anymore. Rajini Vaidyanathan reports on how biometric technology is being used to protect our smartphones and even our bank accounts,
Go to next video: What is encryption?