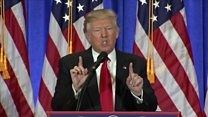 Video
Trump's clash with CNN reporter
Donald Trump refuses to answer a CNN reporter's question after the network reported on Trump dossier.
During Tuesday's press conference, President-Elect Donald Trump refused to answer a CNN reporter's question, declaring the organisation "terrible" and "fake news".
Yesterday, CNN reported that intelligence agencies briefed Mr Trump and President Obama on allegations that Russian operatives had gathered "compromising personal and financial information" against Mr Trump,
Shortly thereafter, Buzzfeed published the unverified allegations.