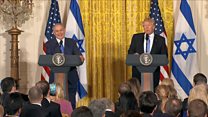 Video
Trump: 'Mideast peace up to them'
Trump presents his view on the two-state solution, which has long been a US objective.
President Donald Trump has said that the solution to the Middle East conflict must be decided upon by the Israelis and Palestinians themselves.
US presidents have long-called for two states for the two peoples, but Mr Trump has said that a one-state solution would be acceptable to him as well, if favoured by both parties.