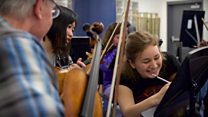 Video
Kronos Quartet's music for future generations
Kronos Quartet's 50 for the Future creates works to serve as free resources for young musicians.
For more than 40 years, the Kronos Quartet, a string quartet based in San Francisco, has been entertaining audiences worldwide.
Now they are commissioning fifty new pieces - 25 from women and 25 from men - to entertain and help the next generation of musicians learn from the best, by sharing the scores online for free.
Produced by Bill McKenna
Shot & Edited by Felicia Barr and Bill McKenna
Special Thanks to Carnegie Hall, Washington Performing Arts and Sixth & I