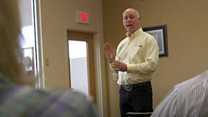 Video
Republican 'body slam' caught on Guardian reporter's tape
Montana Republican congressional candidate Greg Gianforte has been charged after he was accused of physically assaulting a reporter on the campaign trail on Wednesday.
Guardian correspondent Ben Jacobs said Mr Gianforte "body slammed" him, breaking his glasses, at an event in Bozeman.
On the Guardian's recording of the incident, Mr Gianforte is heard saying, "I'm sick and tired of you guys! Get the hell out of here!"