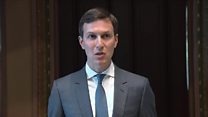 Video
Ever wondered what Jared Kushner sounds like?
President Donald Trump's son-in-law and adviser has been notoriously quiet on the public stage - until now.
The often-seen but rarely-heard aide has just made his first public address from the White House.
Go to next video: What exactly does Ivanka do at White House?