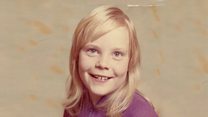 Video
The 'explanation' for the strange events of my childhood
Pauline Dakin is a Canadian broadcaster and a professor of journalism.
Growing up in the 1970s and 1980s, her childhood was marked by many mysterious incidents and unexplained getaways - where her family suddenly had to leave town at a moment's notice. She was told she couldn't talk to anyone about what was going on.
As she tells the BBC's Jo Fidgen, it wasn't until many years later that her mother explained the reason.
Hear more about Stan and the Weird World from Outlook on BBC World Service.