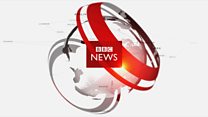 Video
What would you say to those you loved, if it was the final time you could use your voice?
Lonnie Blanchard will lose his tongue in 6 days to cancer. The BBC follows him in the week leading up to his surgery, as he comes to terms with the impact it will have upon him, his family, and his identity. However, there is hope for people like Lonnie, through new voice preservation technology.
This video has been optimised for mobile viewing on the BBC News app. The BBC News app is available from the Apple App Store for iPhone and Google Play Store for Android.