How do you know if you've made it in life?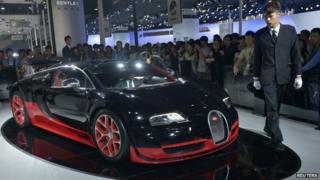 In the first few decades after China's communist revolution, most families aspired to own the "three circles and a speaker" - a radio, a bicycle, a wrist watch and a sewing machine.
Decades later, the list of Chinese must-haves is a lot more expensive. Chinese people are under pressure to buy their own apartment, a car, a smartphone, a DSLR camera and a laptop, for starters. Others strive for designer clothes and furniture too.
And all that brings stress.
According to a new Ipsos survey, most Chinese people - 71% - measure their success in life by the things they own. China topped the list, compared with 58% of people in India, which came second, and just 7% of people in Sweden. The global average hovered at 34%.
Another 68% of Chinese people admitted they were under pressure to make money and be successful, though just 56% expressed optimism when asked about their personal prospects for the year ahead.
We went out onto the streets of Beijing to ask passers-by how they defined success and what they thought of the survey results.