Cover up or be locked up: Naked justice in Hainan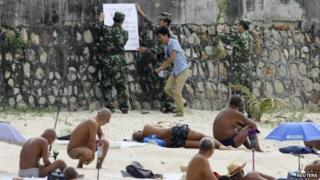 The tropical island of Hainan has long been a popular getaway for winter-weary Chinese tourists seeking some sun.
Now the island's nudist sunbathers are causing a stir - and facing a crackdown.
The island's Communist party boss has denounced nudism as "uncivilised" and "un-Chinese".
"No normal person would swim or sunbathe naked in public," he said.
And so a crackdown is under way.
According to state media, the police have been ordered to carry out round-the-clock patrols.
Using loudspeakers, they are warning nude sunbathers that if they don't cover up they could face up to 10 days of "education through detention".
Despite naked sunbathing being illegal, nudists have apparently gathered on some of the island's beaches for several years.
At peak times there were hundreds of them - most of them middle-aged men.
The state-run news agency Xinhua quoted one man as saying that the nudists believe sunbathing helps them treat skin conditions.
But he added that some of them were swimming naked because they enjoyed "the feeling of returning back to nature."
The backlash on the beach began last week, after the police reportedly descended on one well-known nudist hotspot.
It followed complaints from locals and tourists about the naked flesh on display. The police ordered bathers to put on their swimming costumes and warned them that they could be detained.
Unsurprisingly, the nudist crackdown has been a hot topic on China's internet.
One user bemoaned the fact most of the nudists were middle-aged men: "Bring on young, handsome ones!"
Another posting spoke of a plan go to Hainan for a honeymoon, but that all the talk of nudity had "ruined" the mood.
"I don't want to go anymore," it read.