What in the world: Iran hot and cold on nuclear talks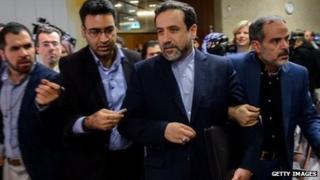 A "seditious" Israeli prime minister conspiring with US congressman? A chance for greater engagement with the West? Iranian commentators debate the outlook for the next round of nuclear talks with the p5+1 nations on Thursday.
Some analysts, who hold radical views, believe that Iran should sever its ties with Western countries, if it comes under pressure. In response to this group, it can be said that the country can maintain its ties with the outside world and hold talks with influential countries to protect its interests and reduce the impact of sanctions on the national economy. - Mohammad Ali Sobhani in Arman (moderate).
Recently, [Iranian Minister of Foreign Affairs Mohammad] Zarif and [US Secretary of State John] Kerry shook hands several times, which has aroused [Israeli PM Binyamin] Netanyahu's jealousy. ... Obviously, this is a great achievement for the Islamic Republic of Iran and its officials. It is a big step toward further isolating the totalitarian Israelis. But one should not be too optimistic, as the Israeli prime minister's fury might lead him to make US Congress members play into his seditious hands.- Sina Khosravi in Mardom Salari (moderate).
Iran has always been committed to negotiations while insisting on its nuclear rights. However, the West has responded by seeking pretexts and making false claims. ... Over the past 10 years, the West has responded to Iran's honest behaviour with dishonesty, which has resulted in inconclusive negotiations between the two sides. - Qasem Ghafuri in Siyasat-e Ruz (conservative).
Elsewhere in the world, analysts give their take on the upcoming round of negotiations:
The Iranian nuclear talks are already mixed up among too many stakeholders, and the interests and bottom lines held by various parties each have their strengths. Experts say that the key point of the problem is no longer only the nuclear issue. Changes in US-Iran relations are also affecting changes in regional roles. - Fu Qiong in China's People's Daily Overseas Edition (Chinese Communist Party newspaper).
If Arabs see danger in the Iranian [nuclear] programme, the danger is even more serious when considering both Israel and Iran. However, Arabs have the power to confront the danger should they want to do so because they have the funds, the connections and the influence to establish not just one but several nuclear programmes, and to build transcontinental [ballistic] missiles. ... Starting nuclear programmes which can easily be turned into nuclear weapon programmes would be a decisive move which Arabs could then use to force Israel and the international community to rid the region of weapons of mass destruction. - Tahir al-Idwan in Jordan's pro-government daily Al-Ra'y.
There is no doubt that Israel is now in an inferior position. ... Netanyahu has no reason to stop the move he is making now almost alone. There is some chance he will succeed. He has nothing to lose if he persists. - Dan Margalit in Israel's free, pro-Netanyahu Yisrael Hayom.
Russian airlines 'in a coma'
Air safety is under scrutiny in Russia's media following Sunday's Tatarstan Airlines crash in Kazan.
The latest on the crash from BBC News:
When we buy a plane ticket, we want to be sure that take-off will be followed by a safe landing. But of that one is not sure, and to be honest, cannot be. Because the domestic aircraft industry is in a coma and cannot supply reliable locally made aircraft to air carriers. The latter, in their turn, with the exception of a few major leading companies, have no means to buy new equipment. - Lyudmila Bezrukova and Anatoliy Zhurin in left-leaning daily Trud.
Does anyone have any doubt that the killed pilots will be blamed? I don't. It was clear from the very first commentaries from our aviation authorities. Bad fuel, the weather, poorly trained pilots, even a terrorist attack - anything will do, but not the old second-hand aircraft. This is a taboo subject! - Olga Bozhyeva in popular daily Moskovskiy Komsomolets.
Airline companies fly the planes they are allowed to fly, and the state of the aircraft is as good as is allowed by law. ... One cannot say that the aircraft that regional airlines use are rubbish. Many airlines have started buying new aircraft. But how can they replace their fleet completely, when there are no Russian-made planes, protective duties are still in place regarding some foreign-made planes and the credits are high? - AVIA.RU portal chief editor Roman Gusarov quoted in pro-government tabloid Komsomolskaya Pravda.
United Kingdom
The selfie's screaming narcissism masks a need to connect.
And for those who missed it, Oxford Dictionaries online editor Richard Holden tells the BBC why they chose "selfie" as word of the year:
Philippines
Benigno Aquino: the invisible president.
Morocco
No more paedophiles in Morocco.
Qatar
Qatar's vagina-shaped stadium is good for feminism and sports.
(From reports provided by BBC Monitoring)