Ukrainian protestors rock Kiev, nuclear talks and more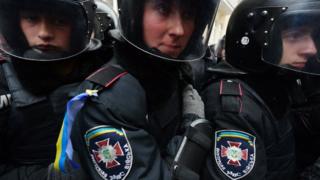 Ukrainians protest against their government, flooding the streets. Meanwhile Iranian pundits attack the nuclear deal, and Egyptians look at "the battle of the constitution".
Ukrainians protested government's policies on the European Union, gathering in Maidan Square. And then police cracked down violently on them. Russian commentators look at prospects for President Viktor Yanukovich.
"In nearly 24 hours President Viktor Yanukovich's position has changed from comfortable to almost critical," writes Maksim Yusin in Kommersant, a business daily.
"The authorities do not seem to have expected that the situation would get out of control so quickly and that the opposition, which started protests under peaceful slogans, would behave so decisively and would go so far."
The protests in Kiev "can be a political tool for Ukrainians", according to editorial writers for another business daily, Vedomosti: "And Yanukovich risks going down in history as the man whom the streets deprived of power twice in one decade."
A commentator, Yuliya Kalachikhina, for a liberal publication, RBK Daily, says that things look grim for the president: "Yanukovich's decision not to sign an association agreement with the EU threatens to grow into a new revolution in the country."
Iran's nuclear deal
Iranian commentators are predictably nervous about the new agreement with the West - while Nobel Prize-winning Shirin Ebadi and others focus on positive aspects of Iran's relationship with the US.
"The deal should not make us forget the hostilities of the US," writes Samira Peymanfar in a conservative Iranian publication called Resalat, "and other arrogant countries towards our country."
In the Jerusalem Post Barry Rubin writes about the Saudi response to the nuclear deal.
"Now in essence the US has objectively sided with Iran, and that is one of the reasons the Saudis are angry," he says. "A senior Saudi diplomat issued a rare direct threat to Iran, warning that 'all options are available' should the international community fail to rein in Iran's alleged drive to acquire nuclear weapons."
In Ma'ariv, a centre-right newspaper in Israel, Ms Ebadi writes: "The Iranians are between two roads leading to opposite directions. One promises integration in the international community and historic passage from authoritarian to democratic regime.
"The other raises fears that when the regime encounters difficulties and is forced to make concessions, the leadership will try to defend its positions by carrying out terrible deeds against what Iranians call 'enemies', 'traitors' and 'foreign agents'.
"The interim agreement with Iran constitutes an opportunity to affect change. But the world must make certain that human rights are not sacrificed on the altar of progress in the negotiations."
Egyptian constitution - 'we are in a real war'
Committee members have drafted a new constitution for Egypt, and reviews are mixed.
Editorial writers for a pro-government newspaper, al-Jumhuriyah, write: "Completion of a draft within a relatively short period of time is an important step in the implementation of the future roadmap agreed by all political forces and civil society institutions."
"We are in a real war," writes Jalal Arif in a privately-owned daily, al-Tahrir, adding: "We must look at the battle of the constitution as part of this war."
Arif writes: "[We must] be more insistent about implementing our plans to end the transitional stage quickly."
Finally Abd-al-Latif al-Minawi, writing in the privately-owned daily al-Misri al-Yawm, says: "I will not defend the constitution but it is enough that it lays the foundation of a civil state."
(From reports provided by BBC Monitoring)