Mandela death: A world of headlines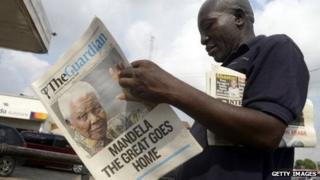 "A Nation Mourns," writes the South African Star. "Goodbye Tata," reads the Sowetan. Venezuela's Meridiano writes, "Goodbye to a Great." Le Monde calls him "the champion of liberty".
To get an appreciation for the international outpouring of affection for Nelson Mandela, take a look at 59 front pages from newspapers around the world, as gathered by Worldcrunch.
If that's not enough, Newseum has a collection of more than 900 US and international front pages, many of which have above-the-fold tributes to the departed South African leader.
There aren't many stop-the-presses global news events. Mr Mandela's passing was one of them.