What in the world: Japanese dolphin slaughter and risking death in space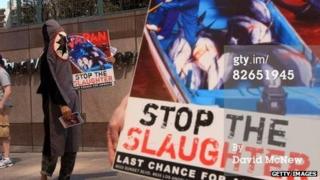 A review of the best commentary on and around the world...
Today's must-read
The murder of Matthew Shepard, a 21-year-old gay student at the University of Wyoming, shocked the US and led to calls for the passage of anti-hate-crime laws. A recent book calls into question details of the case. The author of The Book of Matt, Stephen Jimenez, contends that Mr Shepard's death was not an instance of gay-bashing, but rather likely due to drug violence or a romantic dispute.
The book has been cited by conservative critics who have used it to question the underpinnings of hate-crime laws and subject to allegations from the left that Jimenez's reporting is suspect.
The New Inquiry's Freddie Deboer takes an extensive look at the political controversy that the book has created and what he identifies as "the pathologies in contemporary social liberalism", such as its attraction to "heroes and martyrs".
"The gay rights movement remains essential and in need of protection against reactionary power," he writes. "But no activist group is the movement. Like all institutions, they inevitably become more devoted to their self-perpetuation and to the needs of those working within them than to the cause with which they are identified."
He concludes:
Even if [Mr. Shepard's] death was not a black-and-white morality play which spoke perfectly to the assumptions of those who mourn him, and he not a media-ready victim but a complex and flawed human being, would he then lie outside of the boundaries of our compassion and our responsibility? And if he did, where is left for a movement seeking human justice to go?
Canada
Preventing more retirement home tragedies - As rescue personnel continue to search through the rubble from a fire in a Quebec retirement home that has killed at least 10, Canadians are asking if more could have been done to prevent the tragedy. Susan Eng, vice-president of the Canadian Association of Retired Persons, writes that the government needs to require existing homes for seniors to retrofit sprinklers and take other fire-prevention steps: "All we hear from the provincial minister is that the home complied with existing regulations. So that's okay then?"
Space Exploration
People will die in space, and that's acceptable - After the Challenger and Columbia disasters, the US space programme has become too risk averse, writes the Federalist's Mollie Hemingway. Ambitious space exploration, she contends, is a goal worth dying for.
Japan
Stop the dolphin slaughter - Carl Safina, president of the Blue Ocean Institute, writes that roughly 22,000 dolphins a year are killed in Japanese waters and the Japanese say criticism of the practice is an assault on their culture. "To publicly stake a seemingly large proportion of their nation's cultural identity on slaughtering dolphins and whales while westernizing in almost every way seems, to me, strange," he writes. "And, mainly, cruel."
India
A new generation of Gandhi - Rahul Gandhi gave his first formal interview on Monday night, and BBC correspondent Soutik Biswas writes that while he was "composed and reasonably articulate", he was vague and "remains a prisoner of his dynastic party's legacy".
Russia
Questioning World War Two is taboo - On Monday Russian television channel TVRain asked its viewers whether the nation's leaders should have allowed Leningrad to fall during World War II if ending the siege would have saved hundreds of thousands of lives. The resulting uproar from the public and politicians, writes Bloomberg View's Leonid Bershidsky, demonstrates that the memory of the war is sacred among Russians - and gives President Vladimir Putin a chance to crack down further on independent media.
Ukraine
An uprising the West can't ignore - Former President of Georgia Mikheil Saakashvili writes that the Ukrainian protests are more than just another incident of global unrest. They're the front-line of a battle between the West and a Russia intent on rebuilding its empire. The US and Europe must impose sanctions on the Ukrainian government, he concludes, until they stop their brutal crackdown.
South Sudan
Building a country worth dying for - The origins of the conflict in South Sudan are not ethnic, writes Daniel K Kalinaki in the East African. It was "a fight for the economic benefits of the country, and an ideological contestation within the ruling Sudan People's Liberation Army". Now that it has become a battle between ethnic factions, however, the conflict is going to be long and bloody.
BBC Monitoring's quote of the day
Egyptian presidential elections: "Abdel Fattah al-Sisi has risked his life and family and sided with the poor and the people. He did not think for one moment about what could have happened to him or his future. A man like Al-Sisi, who has sacrificed and is still sacrificing everything, is needed as president for Egypt, at least during this turbulent time." - Kamal Amir in the state-run Egyptian paper Rose al-Yusuf
One more thing…
A cold-weather Super Bowl warms the heart - Yahoo's Dan Wetzel writes that the grousing over the potential for winter weather during Sunday's Super Bowl in New Jersey is "part of the battle over what football really is". The sport, he argues, is supposed to be played in all types of weather, which "is part of what makes it so much fun".
Have you found an interesting opinion piece about global issues that we missed? Share it with us via email at echochambers (at) bbc.co.uk.