What in the world: Is climate change an Olympic-sized problem?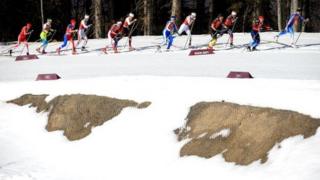 A review of the best commentary on and around the world...
Today's must-read
There's been a lot of talk during the Sochi Olympics about the warm weather and how it's adversely affecting the quality of the snow and ice during competitions.
Of course, Sochi is in a subtropical climate, so much of the blame can be placed at the feet of the Olympic officials who picked the site.
According to former US hockey goalie Michael Richter, however, global climate change is going to make warm weather an increasingly pressing challenge to Winter Olympic hosts.
"Now, every four years, winter Olympians ask: will there be enough snow?" he writes. "In 2011, the World Cup downhill in Europe was cancelled for lack of snow. Scientific projections say that, at best, 10 out of the past 19 host locations are climatically viable to hold future Olympics."
He concludes his piece in the Guardian's website with a call to abandon plans for the Keystone XL pipeline from Alberta, Canada through the United States. He says oil from tar sands generate "three times more global warming pollution than conventional oil".
Meanwhile, in the Washington Post, Charles Krauthammer argues that despite statements to the contrary, including from President Barack Obama during his State of the Union Address, climate change is not "settled science".
"If climate science is settled, why do its predictions keep changing?" he asks. He calls such claims a "crude attempt to silence critics and delegitimize debate".
Spain
An anti-Semitic citizenship gesture - Spain's decision to grant nationality to the descendants of exiled Jews is drenched in closeted anti-Semitism, argues Guy Bechor for Ynetnews. More than 500 years after Spain forced Jews to either convert to Christianity or flee, the country is inviting Jewish people back - a move that Bechor believes is due to the pervasive idea that Jews can stabilise the faltering Spanish economy. Jews have their own nationality and state now, he writes: "The days of patronage are over. Leave us alone."
Russia
Putin's Reagan mystique - The National Interest's Andranik Migranyan calls out the Western media for failing to even attempt to objectively cover the situation in Russia since the fall of the Soviet Union, accusing them of prejudiced superiority. In fact, he writes, conservatives should respect Vladimir Putin's ability to be the type of "great communicator", likening him to Ronald Reagan. "Putin is charismatic, strong, autonomous, confident, decisive and effective, and has demonstrated all of these qualities with his actions, not his words," he writes.
South Africa
A Mandela-sized hole in the nation - "In the aftermath of Nelson Mandela's demise, South Africa is more profoundly adrift than it has been at any time since he retired from the country's presidency in 1999," writes Robert Rotberg for Canada's Globe and Mail. Rampant corruption, rising unemployment and sizable barriers to education are leaving South Africans pessimistic about their country's future.
China
Scientific theft on a massive scale - Journalists and analysts worldwide are extolling China for their decision to pour billions of dollars into research and development. "But it's not what you put in that matters: it's what you get out," counters Quartz's Gwynn Guilford. She writes that China is being "robbed" by prominent scientists, and the corruption goes all the way to the top of the leadership in the wealthy Guangdong province.
Ukraine
A Ukrainian economic contagion? - The violence in Ukraine could lead to financial troubles for emerging markets such as Thailand, Brazil and Turkey, writes Walter Russell Mead on his blog. "It has happened before in financial history that trouble in one country marks a tipping point in market psychology," he says. "Just one more thing to worry about as Ukraine drifts closer to the edge."
Pakistan
Musharraf is yetersday's news - As the treason trial of General Pervez Musharraf moves forward after months of delay, Omar Waraich writes for the New Yorker that Pakistanis are eager to close the case and refocus on other more pressing issues, such as the energy crisis, sluggish economy and troubles with the Taliban. "The Army is now trying to fend off a crisis it never wanted in the first place," he says.
Syria
Somalia-like future would be a regional disaster - The Washington Post's Michael Gerson thinks the consequences of continued inaction in Syria are dire. "One of the largest challenges related to Syria is strategic despair," he writes. "It is easy to argue that any given policy change would be inadequate, late or risky."
BBC Monitoring's quote of the day
Japan's decision to retain nuclear weapons-grade plutonium - "When speeches by Japan on 'nuclear possession' are stacked together, they have given the international community a big question mark: is this country merely pre-empting the energy shortage crisis, or is it setting up to break through the 'nuclear barrier?' Japan owes the international community a convincing explanation, and it even more should eliminate the big question mark brought by it to the international community with practical actions. The safety and non-proliferation of nuclear materials are the mutual interests of the international community, and no mentality of luck or appeasement should be allowed to exist." - Jia Xiudong, researcher at China Institute of International Studies, Beijing's People's Daily Overseas Edition
One more thing…
Time travellers shouldn't kill Hitler - So, you've built yourself a time machine. You could either go back in time and win the state football championship or kill Adolf Hitler. According the Guardian's Dean Burnett, football is a better choice.
He offers a number of reasons. You could end up changing the course of science, for one, stranding yourself in Nazi Germany (right after you've assassinated their beloved leader, by the way). Hitler could be replaced by a more effective leader. And maybe you'll discover you're just not the killing type.
Have you found an interesting opinion piece about global issues that we missed? Share it with us via email at echochambers (at) bbc.co.uk.