Press conferences: Malaysia v China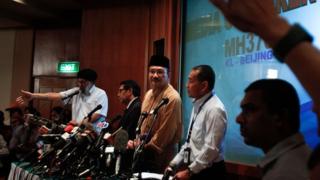 A review of the best commentary on and around the world...
Today's must-read
On Thursday we wrote that some commentators have been sharply criticising the Malaysian government for its handling of the disappearance of flight MH370 from Kuala Lumpur to Beijing. Brian Glucroft of the blog Isidor's Fugue comes to the beleaguered government's defence.
"Whatever mistakes may have been recently made, Malaysia should be applauded for its relative openness," he writes.
He contrasts the Malaysian press conferences with the kind regularly held by China's officials, in which questions - even from major Western media - are submitted and approved in advance.
"It's hard to believe China would have set up press conferences as open as Malaysia's," he writes.
He concludes: "More truth. More accountability. The process can be messier, but they both increase the chance for improvements beneficial to Malaysia's people."
Malaysia
Calm down, we aren't living in an HG Wells novel - In other Malaysia plane news, Jim Wright wants everyone to put away their tinfoil hats and retire their wacky conspiracy theories concerning the disappearance of flight MH370.
A former naval officer writing for Americans Against the Tea Party, Wright says that he's pretty sure that the flight's disappearance has nothing to do with aliens or a rift in the space-time continuum. "This isn't CSI or an episode of 24, sometimes you don't get answers in 60 minutes," he writes. "Deal with it."
Syria
Credibility has nothing to do with it - Anyone who believes that Vladimir Putin got involved in Crimea because of perceived American weakness after inaction in Syria knows nothing about how international relations works, writes John Glaser for The Daily Star of Lebanon. In fact, the opposite is true.
America's vow to bomb Syria over the use of chemical weapons was so out of line and showed such disdain for international law that other countries believe that they have permission to behave similarly. "If anything," he writes. "America's utter disregard for international law gives license to other powerful countries, such as Russia, to behave similarly."
China
The chess game in the West Philippine Sea - For the first time ever, China has prevented routine supply missions in the West Philippine Sea, which the editors of the Philippine Daily Inquirer see as the newest and most irresponsible example of Chinese territorial aggression.
This new level of belligerence, they contend, is proof that China is trying to push the Philippines, Vietnam and other countries out of disputed areas and force the international community to accept their new position. "Possession is nine-tenths of the law; the old legal axiom has its geopolitical equivalent, too," they write.
Turkey
A division of the mind - The most recent protests that followed the funeral of Berkin Elvan, a 15-year-old whose injuries during anti-government protests left him in a coma last June, are no longer a defined by geography, writes Murat Aksoy for Today's Zaman.
"This is a division we are experiencing in our minds along cultural and sectarian terms," he says. Protesters want to live in a freer Turkey, a sentiment that crosses geographical and strictly political lines, even though the AK Party is expected to win almost 40 percent of the vote.
Japan
Nuclear ambition meets pacifist principles? - As the only country that has suffered a nuclear attack as well as a onetime leader in the push for peaceful use of nuclear power, Japan has enjoyed a position of privilege. That should change, write the editors of The Korea Times. Japan is becoming a nuclear powerhouse, they contend, as demonstrated by the faceoff with the US over a huge new processing plant that would extract enough plutonium to supply 2,000 warheads annually.
"Unless Tokyo gives up its ambition of becoming a potential nuclear power, efforts to denuclearize the Korean peninsula appear increasingly meaningless, causing a nuclear domino in this already volatile region and seriously eroding the U.S. nonproliferation strategy," they write.
BBC Monitoring's quotes of the day
"Islamic Jihad's escalation came as a gift on a silver platter for [Israeli PM Benjamin] Netanyahu. He will exploit it in his propaganda and after that mount a new escalation against the Gaza Strip." - Kamal al-Sha'ir in Gaza-based, Hamas-run Filastin.
"We are left with the red lines of Islamic Jihad and with Gaza - a chronic disease about to explode in our face. Every moment the situation is deteriorating in all spheres of life, the coffers are empty, there is no money for salaries, no fuel, no construction materials, the basic goods arriving from Israel are very expensive, unemployment is soaring, there are power cuts every eight hours, and the only chance for improvement lies in cooperation between Israel and Egypt." - Alex Fishman in Israel's Yediot Aharonot.
"Palestinian reaction is inevitable to a crime committed by Israel… For a nation to live under a suffocating blockade and to be deprived of the most basic of human rights and means of living … surely it will not stand idle because if it did it would be contributing to its own death." - Editorial in Oman's Al-Watan.
"It is crucial for Israel to realize that Palestinian resistance factions have the right to respond militarily because Palestinians are left with no option other than armed resistance… The international community is urged to condemn Israeli escalation and demand its immediate halt instead of helping Israel justify an invasion of the Gaza Strip under the pretext of preventing rocket attacks." - Editorial in Qatar's Al-Rayah.
Have you found an interesting opinion piece about global issues that we missed? Share it with us via email at echochambers (at) bbc.co.uk.