Video: Arizona woman struck by police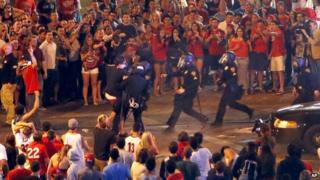 Unruly crowds after sporting events are not an unusual occurrence in the US cultural scene. Post-game couch-burning, for instance, has become a running joke on college campuses.
Police - sometimes in riot gear - get called to control the throng of fans. There are occasionally injuries, and inebriated students, celebrating victory or wallowing in defeat, often wind up in jail.
Such was the case in Tucson, Arizona, on Saturday night, following the University of Arizona's overtime loss in an NCAA college basketball tournament game in Anaheim, California. Fans took to the streets, and the city's police responded in force.
In the end 15 people were arrested, including nine Arizona students, as police tried to disperse the crowd with nine canisters of pepper spray and 200 "pepper ball" projectiles, among other non-lethal crowd control devices.
Jazmine Foster-Hall of the Daily Wildcat, the university's student-run newspaper sets the scene:
Students threw sparklers and firecrackers at the wall of police. One fan walked toward the police line with his arms spread out. This fan was shot by police multiple times with pepper balls, then forcibly pulled behind the police line. Officers proceeded to hold him in place while one officer kneed the man once in the stomach, then punched him three to four times in the stomach and torso before the man fell to the ground.
It was in this heightened situation that Arizona student Phoebe Landolt recorded a video of a woman being knocked to the ground by what appears to be a Tucson police officer in full riot gear.
The Arizona Star quotes Ms Landolt's description of what happened:
These girls had been trying to get to their car. The girl is on her phone not paying attention, and this cop came out of nowhere and just leveled her... After that everyone just started yelling, and she started crying.
"Tyranny in Tucson", the Daily Caller headlines its story on the incident, and early coverage in the media has displayed scepticism that the officer's actions were justified.
"Obviously, there could be more context to this video," writes Samer Kalef of Deadspin. "But from the 20 seconds before the girl gets knocked down, she doesn't seem to be making an audible or visible scene, and the response by the cop seemed excessive."
Slate's Josh Voorhees agrees: "It's mighty difficult to construct a narrative that required the police officer to respond with that degree of force."
According to the Star, the Tucson Police Department is reviewing the incident, a process that could take weeks or months, according to Barry Petchesky in Deadspin. The site also quotes an Arizona student who says "they are preliminarily planning to file lawsuits against police".