Liam Neeson: Save our New York City horse carriages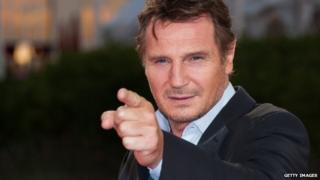 A review of the best commentary on and around the world...
Today's must-read
New York City Mayor Bill de Blasio has made a very dangerous enemy.
During Mr de Blasio's successful mayoral campaign last year, he promised that he would prohibit horse-drawn carriage businesses from operating in the city's Central Park. He recently reaffirmed that he wants the city to enact a ban this year.
There's one thing the mayor didn't count on, however: actor Liam Neeson. Mr Neeson wants the horses to stay, and he's taken to the pages of the New York Times to voice his objection.
"An entire way of life and a historic industry are under threat," he writes.
Mr Neeson, it seems, has a very particular set of skills, skills acquired over a childhood horse riding on his aunt's farm in Northern Ireland, skills that make him a nightmare for people like Mr de Blasio (or, at least, that make him a self-proclaimed expert in horse happiness).
"It has been my experience, always, that horses, much like humans, are at their happiest and healthiest when working," he writes. "Horses have been pulling from the beginning of time. It is what they have been bred to do."
Mr Neeson sees sinister plotters conspiring against him and his pro-carriage compatriots, however.
"The animal-rights opponents of the industry are well funded by real-estate interests," Mr Neeson writes, "which has led to speculation that this powerful lobby wishes to develop the West Side properties occupied by the stables."
Mr Neeson calls on the mayor to visit the Central Park horse stables, see how the horses are treated, meet the carriage operators and "start a dialogue that will safeguard a future for the horses that the majority of New Yorkers want".
After reading Mr Neeson's op-ed, we have only one thing to say to Mr de Blasio:
Good luck.
Venezuela
The opposition is ready to talk - The leader of Venezuela's opposition coalition, Henrique Capriles-Radonski, writes in the Wall Street Journal that Venezuelan President Nicolas Maduro needs to sit down with protestors and his political opposition and engage in meaningful talks.
Mr Capriles-Radonski presents the president with a list of steps to take, including releasing political prisoners, disarming pro-government militias, ending media censorship and investigating human rights abuses.
He reiterates what he told Mr Maduro during a debate last week: "You can either have a proper dialogue or a social explosion."
Japan
Obama's nuclear legacy - President Barack Obama's foreign policy weakness makes a decision by Japan to develop nuclear weapons more likely, writes Commentary magazine's Michael Rubin.
Japan joins traditional US allies around the world in looking for a "Plan B", he says, since they "now recognise that they cannot trust the United States".
"It should be hard for Japanese leaders not to conclude that if they want to defend their territory and people, the time is nearing when they will have to cross the nuclear weapons threshold," he writes.
Brazil
Sex workers think World Cup will make them rich - The Atlantic's Olga Khazan travels to Brazil, where she talks with prostitutes who are anticipating an influx of visitors around this summer's World Cup football tournament.
"Throughout Brazil, some sex workers seem to have as much riding on the World Cup as the country's most devoted soccer fans do," she writes. She says Brazilian aid workers express concerns about child prostitution and sex-related violence, however.
India
A Modi win will be a headache for Canada - For 12 years, Narendra Modi - the front-runner in this month's Indian presidential election - has been denied a visa to visit Canada under a Canadian law barring suspected human rights abusers.
If Mr Modi is elected, and Canada chooses to continue the ban, it could cause serious problems in India-Canada relations, writes Dalhousie University's Anita Singh in Canada's Globe and Mail.
The US, UK and Australia also have visa bans, but they've announced they will be lifted if Mr Modi wins. Canada should follow suit, Ms Singh argues.
"Ottawa must recognise that its existing policy isn't simply about Canada's relationship with Mr Modi, but rather about its relationship with all of India," she writes.
BBC Monitoring's quotes of the day
Iranian media responds to the US denial of a visa to Tehran's ambassador-designate to the UN and the Iranian request for a special UN, committee meeting to investigate the decision.
"It is expected from the country's government and foreign ministry officials that they be bold in remaining firm on their rightful position and not yield to excesses and bullying of arrogant [powers], who since the beginning of the Revolution, have never concealed their hatred and ill will towards the pious Islamic republic system." - Hassan Khayati in Jomhuri-ye Eslami.
"After the collapse of the Soviet Union, America has tried to establish a unipolar system in the world in order to show that except for America, there is no other important country in the world... Under US commitments to the United Nations, this country has the responsibility of ensuring the security of the organisation and cannot prevent the presence of countries' envoys and officials in this organisation." - Ali Tatmaj in Hemayat.
Have you found an interesting opinion piece about global issues that we missed? Share it with us via email at echochambers (at) bbc.co.uk.