Ballplayer's 'obscene' tweet causes stir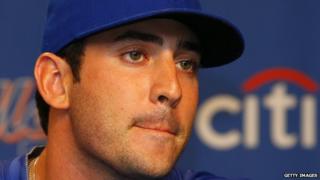 Six months after New York Mets pitcher Matt Harvey underwent elbow surgery, he came across a photograph his mother had taken of him making an obscene gesture as he was being wheeled into the operating room.
He decided to share the image with his fans via Twitter.
Shortly after the picture went viral, Mets officials asked Harvey to take it off the social media site. Instead, he decided to delete his entire account, which had more than 100,000 followers.
This incident is not Harvey's first run-in with management. He's fought publicly with the Mets over the location of his rehab, gotten into a shouting match with a fan of a rival sports team while on vacation in Thailand and posed almost completely nude for ESPN the Magazine.
Harvey argued that the photo shows his perseverance and drive to overcome his season-ending injury: "I'm not going to apologise for being myself," he said.
"I thought the whole reason to have a Twitter was to put out there a little bit of fun and show your personal side a little bit."
Not everyone agrees.
"Doesn't he know children all over the country probably follow him on Twitter?" writes Luis Tirado Jr for Rant Sports. "Didn't he realise he's considered by many to be a role model due to his incredible talents as a pitcher? Harvey should have really used better judgement before he tweeted that picture."
Tirado says that instead of trying to come across as a rebel or a tough guy, he should focus on imitating wholesome New York Yankees star Derek Jeter, whom Harvey has named as his role model.
Newsday's Anthony Rieber says it's perfectly reasonable for the Mets to monitor Harvey's account.
"Harvey represents the Mets and Major League Baseball," he writes. "Just like many employees in many industries, what you share on social media reflects on your employer, too."
Harvey needs to grow up, he concludes.
Craig Calcaterra for NBC's Hardball Talk counters that Rieber is wandering into "serious fainting couch/pearl-clutching territory.
When the team asked Harvey to take the picture down, Calcaterra notes, he did. He says that should be the end of story.
Andy Martino chimes in, arguing that the only reasonable criticism of Harvey's tweet has to do with children coming across upon the picture.
"But when you think about it for another moment, you realise that 'somebody, please think of the children' does not work here," Martino writes for the New York Daily News. "If you are a parent, and your kid saw the tweet - please, get your kid the hell off Twitter. Don't you want his/her brain to develop properly?"
"It seems to be an extreme series of events for a relatively innocuous picture, but Harvey's reasoning for taking his ball and going home actually makes sense," writes Matt Yoder for the sports website Awful Announcing. "If he can't be himself on Twitter, then he may as well not use Twitter."
He concludes:
Unfortunately, this is the world we live in. It's all too easy to get outraged and offended by everything under the sun, so PR departments are sent into overdrive to protect their "brand" and "image". The hysteria over fear of offending somebody naturally leads to overreactions and stepping on eggshells.
While there may be animosity between Harvey and the Mets' front office, however, there's still a sense of brotherhood among the players and coaches. Terry Collins, the manager of the team, joked with Harvey on Tuesday while walking by the injured player.
"Did you (bleep) up again?" he said as he smiled and patted Harvey on the back.
(By Kierran Petersen)