What in the world: German students laugh about Holocaust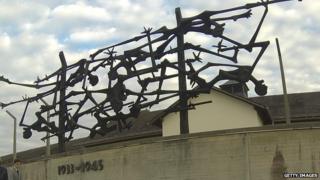 A review of the best commentary on and around the world...
Today's must-read
An American student attending a German high school says she was shocked that her fellow students laughed and joked during a class lesson about the Holocaust.
"The boys laughed uncontrollably, ignoring our teacher's attempts to stop them, while looking at pictures of starving concentration camp victims," Sophie Roth-Douquet writes in USA Today.
She says "things got worse" during a field trip to the concentration camp at Dachau, when she overheard a classmate joke about a sculpture of men caught in barbed wire.
Her classmates "weren't being monsters", she writes, but they missed an important lesson about human nature.
"As a Jew, I couldn't miss the lesson," she says. "My relatives are living history."
She adds:
My classmates' families really don't talk about the Holocaust. Perhaps it is too uncomfortable a topic. Nor is it usually a topic in school. In my school, the Holocaust is not even mentioned until the ninth grade. And when we do study World War Two, the systematic genocide of Jews is barely mentioned.
She then recalls how when she was in South Carolina, students joked about slavery.
"In both these situations, my classes covered up these tragedies of the past and chose to ignore the lesson taught by history: that if allowed to go too far, humans can do terrible things," she says.
Rwanda
France is responsible for genocide - By turning a blind eye to the Hutu-led genocide in Rwanda in the early 1990s, writes French philosopher Bernard-Henri Levy, the French leadership at the time "bears political and moral responsibility for the sadly foreseeable chain of monstrous events that unfolded on its watch".
This needs to be acknowledged, he writes in the Daily Beast, so that the Rwandan people can "grieve and remember".
He adds that honouring French military action in Rwanda, when soldiers were ordered to stand aside as the massacres took place, does a disservice to the French action in places like Libya, the Central African Republic and the Balkans.
Armenia
Another year, another broken Obama promise - When he was first running for president, Barack Obama said he would "recognise the Armenian genocide" if he were elected. Six years later, writes Reason's Matt Welch, and another Armenian Genocide Day has passed without presidential action.
"Obama decided instead to be like his four predecessors," he writes, "and let America's official language be determined by its desperate need to use Turkey for staging and diplomatic purposes in Washington's never-ending military involvement in the Middle East."
He concludes that there is a lesson in this story:
All US foreign interventions, including those sold with the purest of humanitarian motives, require unseemly compromises that degrade the very morals that Washington claims to uphold. If it's possible to be a consistent truth-teller and committed interventionist at the same time, no recent resident of 1600 Pennsylvania has pulled off the trick.
Nigeria
New economic numbers hide gnawing poverty - Recently adjusted economic figures show Nigeria to be Africa's largest economy, on a par with Poland and Belgium. The editors of the Guardian in Nigeria write that this development should not be celebrated, however, as a majority of Nigerians are still below the poverty line.
"The figures do not in any way speak to the plight of Nigerians and do not advance new ways to improve their living standard," they write. "To truly grow the economy, this country needs power and the productive base of the economy needs to be expanded to generate employment for the citizenry."
Australia
Anzac Day still resonates - Anzac Day, in which Australians and New Zealanders remember their war dead, continues to "grow in stature in the nation's consciousness", writes Australian Education and Communities Secretary Michele Bruniges.
The holiday, which falls on 25 April, ii not about the glorification of war, she continues. "It's about something much deeper, about humanity and resilience, an acknowledgement of the sacrifice and the trauma - for the servicemen and women, and their families."
She concludes:
Young people today are intrigued by the Anzac story. You only have to look at the increase in numbers at the dawn services, the pride of children wearing their grandfathers' medals and the many nationalities who commemorate the fallen.
BBC Monitoring's quotes of the day
Ukrainian media react to the ongoing crisis in the eastern portion of the country.
"Russia seems to be placing bets on the further escalation of the conflict in eastern Ukraine. Neither threats of US or EU sanctions nor the accords Russian diplomacy chief Sergey Lavrov signed in Geneva last week bind its hands." - Mykola Siruk in Den.
"[Russian President Vladimir] Putin will either bring troops into Ukraine or expand its subversive network." - Vadym Karasyov in Segodnya.
"[Mr Putin] wanted it to be like in Crimea - no resistance at all. But the Ukrainian authorities responded to hostage-taking and murders in Slovyansk adequately and launched an antiterrorist operation. Only Mr Putin knows what he will do next." - Volodymyr Fesenko in Segodnya.
Have you found an interesting opinion piece about global issues that we missed? Share it with us via email at echochambers (at) bbc.co.uk.