Bowe Bergdahl: Afghan media wary of deal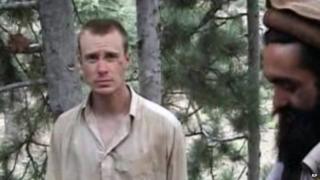 A review of the best commentary on and around the world...
Today's must-read
President Barack Obama's announcement on Saturday that the US had released five Taliban officials from the Guantanamo Bay detention facility in exchange for captive US soldier Bowe Bergdahl made national headlines.
In Afghanistan, reaction to the news was muted, with many papers and commentators expressing concern that the agreement undermined their attempts to reach a peace agreement with Taliban forces.
"America has released five dangerous terrorists from Guantanamo in exchange for the release of one of its soldiers," write the editors of Arman-e Melli. "The release of five senior and dangerous terrorists of the Taliban group was unpleasant and disturbing news for the Afghan people."
The editors of Hast-e Sobh expressed surprise that, after 13 years in Afghanistan, the US no longer considers the Taliban to be "terrorists".
"When the Taliban see that America is holding direct talks with them, opening an office for them and striking a deal with them, such an approach by America sends a message to the Taliban that there is no need for holding talks with Kabul," they write.
This opens the door to the Taliban achieving "everything they want", they conclude.
The editors of Sarnawesht, on the other hand, consider the release of the five Taliban officials from "the dangerous and dark US prison" to be "good news" and "good progress"
"But they will hardly be able to assist the peace process and the search for compromise," they write.
Meanwhile, the state-run newspaper Hewad says that while the move may help build confidence on various sides of negotiations, "the Afghan government was sidelined".
"These Taliban officials should be handed over to the Afghan government and a safe place should be specified for their residence in the capital Kabul, but if they rejoin the Taliban and step up the armed struggle, this will only prolong the Afghan crisis and strengthen the [government's] opponents," they conclude.
(Translations provided by BBC Monitoring.)
Palestinian Authority
Egyptian elections good news for Palestinians - By electing Abdel Fattah al-Sisi president, Egyptians have brightened the outlook for the Palestinian cause, writes former Palestinian Authority Minister Ali Jarbawi in the New York Times.
"This has nothing to do with any value judgements about the Egyptian revolution," he writes in the New York Times. Rather, it will bring stability to the nation, and allow Egypt to focus again on becoming a regional power and move away from dependence on the US.
A stable, confident Egypt can stand up to Israel, he concludes, and become a driving force for Palestinian statehood. "As a result, the Palestinian cause could regain the strong regional and international ally that it so desperately needs."
China
Another Tiananmen revolution? - The 1989 crackdown on the Tiananmen Square demonstrations "irrevocably changed the Party's relationship with the Chinese people", writes Gordon G Chang in the National Interest.
Fear replaced respect as the source of power for Chinese authorities, he says, as he details how close China came to a "Romanian-style military revolt".
Now, Chang writes, discontent is on the rise in China once again, and intimidation may not be enough to keep the people in line.
The Chinese People's Liberation Army has grown increasingly independent in the years since 1989, and this time it may not be willing to back up a Communist Party order to meet political resistance with force.
Qatar
US could benefit from Qatar's World Cup troubles - Last week the UK's Sunday Times published emails providing more evidence of possible corruption and bribery involving Qatar's successful bid to be the host of the 2022 World Cup football tournament.
Combined with concerns that Qatar will be too hot to host a summer tournament and questions about worker safety during stadium construction projects, writes the Guardian's Owen Gibson, and Qatar's suitability as host of the World Cup is being called into question.
"If the previously unthinkable were to happen and a revote were to be called," Gibson writes, the US - the runner-up in the original balloting - could end up hosting the tournament after all.
"Because it promised to use largely existing stadiums, it would be relatively easy to resurrect the bid, although it remains to be seen whether there would be the political will to do so," he says.
Argentina
The Pope's prestige is tied to Argentine stability - If Pope Francis wants to be a player in high-profile global crises, writes the Miami Herald's Andres Oppenheimer, he needs to ensure that Argentina's President Cristina Fernandez de Kirchner successfully completes the last year and a half of her term in office.
"In a country that has had terrible experiences with military coups and forced departures of elected presidents, Francis wants to make sure that democratic rule is not once again interrupted," he writes.
Although the Pope has not taken a public position on Argentine internal politics, he writes, "he is practising a very active silent diplomacy here".
So far, he concludes, this "private diplomacy" is working.
BBC Monitoring's quotes of the day
Regional press reacts to the presidential elections in Syria, which conclude on Tuesday.
"The Syrian people's insistence on heading to the ballot boxes in a human tsunami emphasises the will to live which Americans are trying to kill through terrorists or through terrorist policies." - Editorial in Syria's Tishrin.
"The term 'farce' is too good to describe the Syrian presidential election due to be held tomorrow [3 June], but no other cynical terms can describe this election, which is unique in history. How can anyone hold an election in a country in which the regime is not in full control? How can there be an election in a country where there is civil war, or indeed where there is foreign occupation by forces allied to the regime? How can there be an election in a country half of whose population are displaced or are seeking refuge abroad? How can there be an election in a country in which the regime murders its own people in order to rule? How can a murderer relinquish the seat of power?" - Editorial in Saudi Arabia's Al-Watan.
"Syrians will head to the ballot boxes tomorrow [3 June] to elect the man of the hour amid a global conspiracy targeting them and their country. Together, they will draw a future for Syria filled with freedom, independence and sovereignty, and they will deliver a national epic par excellence reflecting the deep sense of belonging they feel towards their country." - Oman's Al-Watan.
Have you found an interesting opinion piece about global issues that we missed? Share it with us via email at echochambers (at) bbc.co.uk.