In Mississippi, did Democratic voters beat back the Tea Party?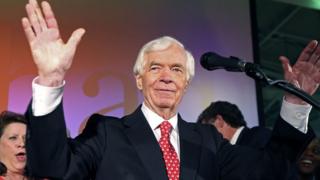 Here we go again. The Republican Party establishment has effectively defeated the conservative, grass-roots Tea Party insurgency.
At least, that's the general consensus following Tuesday's ballot box results.
Of course that was also the general consensus through most of this year's political primary season - right up until House Majority Leader Eric Cantor found himself out of a job thanks to a little-known Virginia college professor who ran to the Virginia Republican's right.
Mr Cantor's defeat prompted considerable soul-searching and reflection on the party of political analysts, who were shocked by his unexpected narrative-breaking loss. With Mississippi Senator Thad Cochran's win over Tea Party-backed Chris McDaniel (and, to a lesser extent, other establishment-backed victories in Oklahoma and Colorado), the Tea-Party-in-decline storyline has returned to the fore.
"Conservatives hoped Cantor's toppling was a sign that there was more pent-up anti-incumbent sentiment than previously thought," writes the Atlantic's Molly Ball. "But at this point, Cantor seems more an aberration than a portent."
She says Tuesday's high-profile races were a major defeat for national Tea Party organisations such as FreedomWorks and Tea Party Patriots, as they heavily supported insurgent candidates. And although they claimed victory in the Cantor race, the reality is that his opponent, David Brat, received very little support from these deep pocked groups.
"The organizations claiming to speak for the Tea Party nationally do not appear to be plugged into the real grassroots or have the ability to mobilize effectively in support of the candidates they favour," she says.
Mr Cochran's win was a blow to conservatism, writes RedState's Erick Erickson.
"The great lesson from Mississippi is that Republican means, more or less, that if elected the party will reward its major donors, who are just different than the Democrats' major donors," he says. "Policy differences are about different donors, not an actual agenda to shift the country in a different direction."
The Washington Post's George Will says that the message from the Mississippi election is that the state's voters were swayed by government largess instead of the Tea Party's lofty rhetoric.
"McDaniel's defeat, like many the Tea Party has experienced this primary season, brings that feisty faction face to face with a melancholy fact: Americans' devotion to frugal government is frequently avowed but rarely inhibiting," he says.
Tea Party-supporting conservatives have another explanation for what appears to be their sudden reversal of fortune, however - the Cochran campaign's late efforts to attract support from Democrats - particularly blacks.
Mississippi is one of 20 states that has some form of open primary system. The state allows anyone to vote in a party primary as long as they haven't voted in another party's primary the same election cycle - and they "intend" to vote for that party's candidate in the autumn general election.
According to the Jackson, Mississippi Clarion-Ledger's Sam R Hall, turnout in the runoff election between Mr Cochran and Mr McDaniel was up by 20% over the first primary vote on 3 June.
"While we can't absolutely quantify how many of the more than 66,000 additional voters were Democrats - black or white - it's clear that a large percentage were," he writes.
He adds that several majority-black precincts saw large increases in turnout.
This prompted Breitbart's Joel B Pollak to write that Mr Cochran "played the race card" by "dividing the electorate for the sake of his own decrepit incumbency".
Conservative radio talk show host Rush Limbaugh said Mr Cochran appealed to "Uncle Tom" blacks - a derogatory term originally used to refer to slaves who sought out the approval of their white owners.
"I thought it was the worst thing you could do as an African American, vote for a Republican," he said. "But somehow they were made to believe that voting for old Thad would be fine and dandy. And why? Because they were told Thad's done a lot for black people in Mississippi."
NetRightDaily's Robert Romano argues that Tuesday night's results prove that Republicans should not allow Democrats to vote in their primaries.
"Cochran appears to owe his victory entirely to campaigning on liberal causes in Democrat counties, and pulling Democrat voters into the Republican primary," he writes.
"If nothing else, this might advise Republicans parties nationwide to close their primaries so that liberal Democrats don't end up choosing the 2016 GOP nominee for president, or any other nominees."
As of Thursday, Mr McDaniel has not conceded the race to Mr Cochran, although he trails by slightly over 6,000 votes in the unofficial final results. He said he may launch a court challenge to the results, alleging "a civil conspiracy to violate state law".
"I've fought for this (Republican Party) all my life, but they abandoned us, made fun of us and ridiculed us and brought in 35,000 Democrats to beat us," he said on Sean Hannity's conservative radio talk show on Wednesday.
Although the Republican Party's establishment may have posted a big win on Tuesday, the battle in Mississippi - and, more broadly, for the heart and soul of the party - seems far from resolved.