Jim Gant, Ann Scott Tyson and their Afghan Affair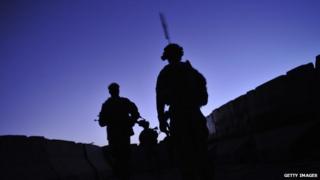 Most journalists agree never to get too close to a source. But how close is too close? This week, ABC News profiled an unusual story of a journalist who crossed this boundary and fell in love with the man she was reporting on, US Special Forces Maj Jim Gant.
Washington Post reporter Ann Scott Tyson first spoke with Mr Gant in a 2007 phone interview, after he was awarded a US military top honour, the Silver Star. In 2010, they met face-to-face after she profiled him for the Washington Post, describing him as "the Green Beret who could win the war in Afghanistan".
In 2011 Ms Tyson took a leave of absence from her journalism job and secretly moved to his dangerous combat outpost in Afghanistan, to live with Mr Gant for nearly a year. What started as research for a book project at some point became a romantic relationship.
As Ms Tyson adjusted to life in the field with US Special Forces, Mr Gant learned how to "go native" in Pashtun territory, "by living with, eating with, fighting with and even dying with tribesmen willing to take on the insurgents".
This unconventional approach led many of his colleagues to believe that he had turned into Col Kurtz, in reference to the rogue Green Beret officer in the Vietnam War film Apocalypse Now, based on the Joseph Conrad novel Heart of Darkness.
The frequent battles and challenging environment were beginning to take their toll on Mr Gant. "I was drinking alcohol, I was taking sleeping medication. I was taking pain medication," he said in his interview with ABC News.
Once the US Army Special Operations Command learned of Mr Gant's penchant for drink and prescription pills (along with his clandestine affair with Ms Tyson), he was quietly relieved of his command, kicked out of the Special Forces and demoted to captain.
Since leaving the military, the former Green Beret officer and the journalist have married, and they live in Seattle, Washington. Ms Tyson recently published a book on their relationship and her husband's experiences in Afghanistan titled American Spartan: the Promise, the Mission and the Betrayal of Special Forces Major Jim Gant.
Although their tale may be fit for a Hollywood blockbuster, their relationship has been criticised in the press.
"The heart wants what the heart wants," writes David Axe for Medium. "The problem is that Tyson continued writing about Gant in a journalistic capacity even as she was falling for him."
Additionally, Mr Gant taught his lover how to use Army weapons, and when on missions with the unit she wore military fatigues.
"I've embedded dozens of times with a dozen different armies - once even with Army Special Forces. My hosts never offered to train me on their weapons," Axe says. "I never wore military fatigues, in part because I didn't want anyone to mistake me for a soldier. Because I'm not one."
For Ms Tyson, the lines between journalist and participant blurred. "It seems that in the company of a warrior she greatly admired - and was growing to love - Tyson forgot that she's not a soldier, either," he writes.
Not all critics focused on what their affair says about journalism, however, but rather what Mr Gant's decorated rise and discrediting fall says about the US military experience in Afghanistan.
"When we ask ourselves why Maj Gant fell from grace, we also have to look in the mirror," writes retired Col Joseph J Collins. "The all-volunteer Armed Forces - active and reserve components - are not made for a decade of large-scale, protracted warfare. That fact, however, did not and will not stop us from engaging in protracted warfare".
The United States' expansive, protracted war consumed its soldiers, he writes, "grinding down the best and the bravest until many of them died, broke or fell from grace".
Aaron MacLean reports for the Washington Free Beacon that fellow officers felt that Mr Gant "was used for as long as he could win and stay out of trouble, and abandoned soon after he ran afoul of his mid-level superiors, with no consideration taken for the personal toll of constant exposure to combat and isolation from civilization took on him".
If one can get past his love affair, Mr Gant's narrative illuminates some deeper issues of US foreign involvement, writes Mark Thompson for Time. "It's about the willingness of the US military to tolerate officers who will challenge training and tradition in hopes of finding a better way to prevail. How far Gant crossed that line - and if it warranted the punishment he got - will be debated long after the final US troops have left the country he tried to help."
(By Annie Waldman)