US teens trail global peers in money matters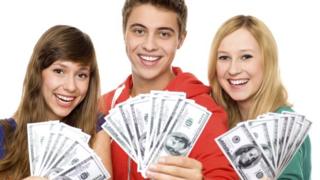 A study released Wednesday by the Organisation for Economic Co-operation and Development (OECD) found that US 15-year-olds are in the middle of the pack when it comes to basic knowledge of finances and wealth-building.
For the first time, the OECD tested more than 29,000 teens around the world on basic financial literacy as part of its 2012 Programme for International Student Assessment (Pisa), which measures academic achievement in 18 participating nations (the UK did not participate).
"Finance is a part of everyday life for many 15-year-olds - they are already consumers of financial services such as bank accounts with access to online payment facilities," write the study's authors. "As they near the end of compulsory education, students will also face complex and challenging financial choices."
The test presented questions about simple monetary transactions using bank cards, cheques and currencies, planning and managing income, interest rates, credit agreements, investing products and the larger economic forces.
For instance, it asked participants to analyse and identify relevant numbers on an employee pay slip, an invoice and a loan offer. (You can try your hand at the test here.)
Chinese teens finished first, with a score of 602 - well above the mean score of 500 for all participants. Coming in a distant second was Flemish Belgium (541), followed by Estonia, Australia, New Zealand and the Czech Republic. The US was ninth with a score of 492, just ahead of Russia. Italy (466) and Colombia (379) finished at the bottom of the group.
According to the survey, 17.8% of US test-takers did not reach a baseline level of proficiency in financial literacy. For China, that number was 1.6%
The Atlantic's Emily Richmond explains why these findings matter:
With money management the buzz phrase of post-recession America, there's an increasing push from both the public and private sector to make sure the nation's young people are taught the fiscal smarts to make wise decisions for themselves on everything from living within a budget to savings accounts to college loans.
The National Journal's Nancy Cook says US teens face an uphill battle in learning about responsible money management:
Although the US alone boasts roughly 800 different financial-literacy curricula, no academic, institutional or personal-finance expert has yet uncovered the most effective method for teaching these key money skills. In many ways, it's an unfair battle against the prowess of the financial-services industry that annually spends about $54 per person on financial marketing versus the roughly $2 per person spent in the US on financial education.
The US performance shouldn't be surprising, according to the Atlanta Journal-Constitution's Maureen Downey.
"Most of us learn about money from making mistakes with it in our 20s and 30s," she writes. Better financial education at an early age, she continues, would help Americans own homes sooner and better endure financial difficulties, such as job losses.
In addition to the nation-by-nation rankings, the OECD breaks down the results of the test and comes up with some other interesting findings.
Some nations that did well on the test, such as Australia, the Czech Republic and Estonia, performed better in financial literacy than their maths-test results would suggest. Others that fared poorly, such as France and Italy, did worse.
Students from wealthier backgrounds generally did better on the test than less-advantaged teens. Those with bank accounts scored higher than those without.
There was little measurable difference between the performance of male and female test-takers.
Only 10% of test-takers could answer the most challenging questions, such as determining a bank statement balance that includes transfer fees and understanding income tax brackets.
"In our country, where education is highly valued as a means to a better life, failing to teach our children about financial matters is unacceptable," Richard Cordray, director of the US Consumer Financial Protection Bureau, said in a statement. "A free market economy like ours is only as strong as its consumers, and we each need to be able to take responsibility for making sound and sustainable financial choices."
As the Pisa results show, US leaders like Cordray have their work cut out for them.