Tall grass, close walls: How sports teams scheme for wins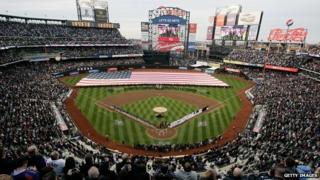 The New York Mets are hoping that less outfield green leads to more wins.
On Tuesday Sandy Alderson, general manager for one of New York's two major league baseball teams, announced that his franchise had studied balls hit in their stadium over the past season and concluded that their team would benefit from moving the right field wall in by up to 11 feet (3.35m) in places.
According to a team analysis, the Mets - who feature several left-handed power hitters - would have tallied an additional 17 home runs, while their opponents would have only put 10 more over a closer wall.
New York's move is a conscious - and public - effort to give the home team an extra edge against their opponents. Such tactics show up all across sport - whether it's encouraging, or even possibly amplifying, crowd noise in basketball arenas or opening stadium doors to make the conditions windier during key moments of an American football game.
Many of the moves, like fence-fiddling by the Mets, are perfectly above board. Others are a bit questionable, the subject of rumours and denied accusations. Here is a selection of some more memorable instances and allegations.
Could Miami take the heat?
June in Texas can be hot, as the Miami Heat found out in game one of this year's National Basketball Association seven-game championship series. When the air conditioning in the San Antonio Spurs's arena gave out, the temperature soared to over 90F (32C).
Miami's star player, Lebron James, succumbed to heat-related cramps, and San Antonio would win the game - and, eventually, the championship.
Although the arena's operators pledged that the outage was an accident, many Heat fans believe to this day that it was a planned move to gain an advantage.
"They're trying to smoke us out of here," James said at one point during the game.
High anxiety
Sometimes home-field advantage involves more than just adjusting a stadium to suit the local team. During World Cup qualifications it can involve choosing the town in which a match is played.
Mountainous South American countries would often pick high-altitude locations to hobble opponents from lowland nations not used to the thinner air. It became such a regular practice that in 2007 Fifa decided to prohibit international matches above an altitude of 2,500m.
"Between 1973 and 2005," writes Rodrigo Orihuela for the Guardian, "Argentina was winless in Bolivia, even though it won two World Cups and two Copa Americas in the period, and coaches and players regularly blamed the shortage of oxygen for their bad performances."
The move caused an uproar, and Fifa was forced to revise and then suspend its altitude rules.
In one of the most memorable recent high-altitude games, it wasn't the thin air that was the problem. In March 2013 the US played Costa Rica in a World Cup qualifier in Denver during a snowstorm - a match that the US side won 1-0.
The US often schedules games against their Latin American foes in cold-weather locations like Ohio, Utah and Colorado, but the surprise blizzard took home field advantage to another level against the ill-prepared Ticos.
"By the last 15 minutes of the game, any semblance of soccer was only accidental," writes Time magazine's Bill Saporito. "It is very difficult to pass a ball through 3 or 4 inches of snow. You just kick it long and hope for a crazy result."
After the match the Costa Rican players were furious. Their manager called the game "an embarrassment to football".
The grass is sometimes taller on the home side
Although artificial turf is the standard playing surface in many stadiums today, old-school grass can present some advantages.
In the Barclays Premier League last season, Arsenal manager Arsene Wenger repeatedly complained that his team's opponents were letting the grass on their home pitches grow long to slow down his faster players.
"I will soon have a pitch at home with long grass to practise for when we play away from home," he said.
American football teams have been accused of similar tactics, perhaps most notably in 2005, when Notre Dame's field looked unusually unkempt against top-ranked USC.
"You knew it was long, and you knew it was long intentionally," then-USC assistant coach Steve Sarkisian would later say. "It wasn't like the guy forgot to mow the lawn that day."
Notre Dame, which lost in the final seconds of the game to the heavily favoured USC squad, continues to deny that it doctored the field.
Baseball's ground rules
Last month Kansas City Royals manager Ned Yost accused the grounds crews of the opposing San Francisco Giants of watering down the infield dirt prior to game three of the baseball World Series.
Earlier in the postseason his team had stolen seven bases against an opponent, and he speculated that San Francisco wanted a muddy surface that would bog down the team's speedsters.
"When I took off, I left a big divot in the ground," said Kansas City player Jarrod Dyson. "They're just trying to slow our running game down. Typical move."
San Francisco officials have denied the allegations - but strategic field-grooming has a long history in baseball and is generally tolerated as long as it's not too egregious.
"One of the best relationships you need to have is with your home groundskeeper," long-time baseball manager Buck Showalter told ESPN columnist Jerry Crasnick. "Whether it's length of grass or the texture of the dirt, there are a lot of things teams try to do to accentuate their strengths and minimize their weaknesses."
Think pink
Occasionally the home team's tactics go from sneaky to ridiculous. Such is the case at the University of Iowa, whose visiting team's football stadium locker room has been painted pink from floor to ceiling for more than three decades.
The move has been called sexist and homophobic by some critics.
"It sends the message that anything associated with female is lesser-than," former Iowa Prof Jill Gaulding told Inside Higher Ed. "The minute I read about the pink locker room and how the university had built it even pinker, it felt like somebody had just reached out and slapped me across the face. It was that insulting."
There's no question that the colour annoys some of the visiting players. Former University of Michigan coach Bo Schembechler reportedly ordered his staff to cover the walls with paper when his team played there.
It's all in your head
There's no guaranteed that any of these tactics, schemes and manoeuvres actually worked - if they were really undertaken at all. But as the Wall Street Journal's Jared Diamond says, sometimes it doesn't matter if the facts bear out the advantage. If the players think they've got an edge, it could improve their confidence.
"Ultimately, the Mets hope that moving in the fences again will help their hitters from a mental standpoint," he writes. "They have worried in the past that watching long fly balls die harmlessly on the warning track has affected confidence... While visitors leave after a short series at Citi Field, the Mets play half their games there, exacerbating the psychological torment."
A good home field advantage puts all the torment on the visiting side.