'Stephen Colbert' now belongs to the ages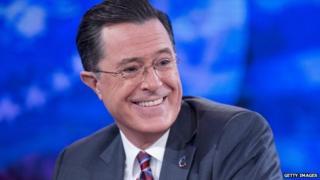 "Folks, if this is your first time tuning in to the Colbert Report, I have some terrible news," Stephen Colbert announced on episode 1,447 of his Comedy Central cable show last night. "This, in fact, is your last time tuning in to the Colbert Report."
And so began Mr Colbert's soliloquy on the historical import of his Comedy Central show, whose last episode aired Thursday night. He's moving on to replace David Letterman on CBS's Late Show next year, and he's retiring the character of "Stephen Colbert" - a right-wing blowhard pundit used to skewer right-wing blowhard pundits - that he has essentially lived in for the past decade.
"In the annals of history, or whatever orifice they stuff it in, let no one say what we did together was not important or influential or importulential," he said. "You see from the beginning of my show, it was my goal to live up to the name of this network, Influence Central. And if all we achieved over the last nine years was to come into your home each night and help you make a difficult day a little better … man, what a waste."
While Mr Colbert joked about the show's influence, other writers have noted that the programme has had a significant impact on US culture.
"What we were seeing was the perfect indictment of the world of political punditry, yes, but also a send-up of our inflexibility when it came to opinions, reason and the truth," writes the Washington Post's Hank Stuever.
The Daily Beast's Noel Murray observes that Mr Colbert's show was about more than spoofing right-wing talk show hosts like Fox's Bill O'Reilly and Sean Hannity, which explains why it was able to stay fresh and engaging for so many years.
"Colbert kept building out his character's backstory, turning a single-panel cartoon into something more like a long-running comic strip, with a myriad of subplots."
He continues: "All the looks back at this Colbert character have been a clever way of pointing out that some of the most trusted names in politics today are little more than escapees from some local radio station's Morning Zoo."
The "Colbert Nation", Mr Colbert's millions-strong band of viewers, is perhaps the best demonstration of the show's reach. At Mr Colbert's urging, they raised millions for charity, altered Wikipedia entries and swamped countless internet polls around the world. (At one point the Hungarian ambassador to the US appeared on the programme to apologise that that his country would not name a bridge after the host, despite "Stephen Colbert" having received the most votes.)
The show's decade long-run was a remarkable bit of performance theatre unlike anything on US television - one so convincing that some polls showed some conservative viewers didn't understand that the show was satire.
"It's hard to wake up every day and try to change the world," writes Salon's Sonia Saraiya. "Stephen Colbert has a set of talents that he could deploy with devastating effect, and he decided to use them for making the world funnier and saner."
As Mr Colbert's final show wound to a close, he accidentally became immortal by killing death and engaged in a rousing rendition of We'll Meet Again with George Lucas, Henry Kissinger, Willie Nelson, Tom Brokaw and dozens of other celebrities, journalists and politicians.
"The all-star send-off is a staple of talk-show finales, but this one seemed to say something here about the vast world that Colbert created with the Report," says Time magazine's James Poniewozik. "The show itself was not the sum total of the production that Colbert has put since 2005. It was just the flagship product of a larger performance that extended to the internet, to public rallies, to political campaigns and even to space."
In the final scene, Mr Colbert stood atop his studio's building holding a Captain America shield, where he was met by Santa Claus, an e-cigarette smoking Abraham Lincoln unicorn and game-show host Alex Trebec. He climbed aboard Santa's sleigh, and they flew off into the night.
"From eternity," he said as he signed off, "I'm Stephen Colbert."
Like Lincoln, it seems, "Stephen Colbert" now belongs to the ages.