Romney 2016: Requiem for a presidential dream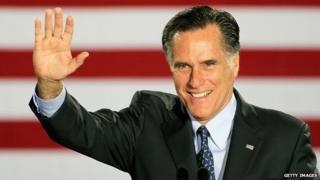 "After putting considerable thought into making another run for president, I've decided it is best to give other leaders in the party the opportunity to become our next nominee."
With those words, 2012 Republican presidential nominee Mitt Romney slammed the door on the prospects that he would make a 2016 presidential bid.
The former Massachusetts governor had tweaked presidential prognosticators just two weeks earlier, when he told fund-raisers that he was interested in a third-consecutive campaign. He has, apparently, finished considering and opted to take a pass.
When word of a "major announcement" first spread throughout the US political world on Friday morning, speculation was rampant that Mr Romney was going to establish a framework for a campaign - such as by forming an "exploratory committee" to facilitate fundraising.
"Mitt Romney is running for president," trumpeted a headline on the Daily Beast.
"Based on all the conversations I have had with Romney World this week, I would bet that Mitt and Ann Romney's proposition, that if he runs he will become the Republican nominee, is about to be tested," wrote Bloomberg's Mark Halperin wrote.
Others were busy wondering whether the third time might be the charm for the veteran candidate.
Roughly 15 minutes before the scheduled announcement, however, conservative radio host and commentator Hugh Hewitt posted the transcript of Mr Romney's statement, and the political conversation skidded on its heels like a cartoon character and headed in the opposite direction.
"You can't imagine how hard it is for Ann and me to step aside, especially knowing of your support and the support of so many people across the country," Romney said. "But we believe it is for the best of the party and the nation."
So, instead of yet another round of Romney-bashing similar to what occurred a few weeks ago, pundits and analysts instead started etching the lines of the 67-year-old's political epitaph.
"I always thought Romney was a good man, and this seals it," tweets conservative PJMedia's Stephen Green.
Former Florida Governor Jeb Bush - who has formed his own exploratory committee and seems well on his way toward a formal presidential campaign - also offered his benediction.
"Mitt is a patriot, and I join many in hoping his days of serving our nation and our party are not over," he tweets.
Jon Ward of Yahoo News writes that Mr Romney's decision lets him bow out on "his terms", thanks to recent polls that show him at the top of the Republican field.
"Many in the political world laughed at the idea that Romney would run again, but he, his family and his close advisers all believed firmly that he was the right man for the job in 2012, and remained so now," he says. "With the polling data especially being what it is, Romney can exit the scene saying he walked away from a likely victory."
Others met the news with more of the same mocking humour that greeted Romney's earlier 2016 political overtures.
"Finally, a Republican is NOT running for president," tweets former George W Bush advisor Ari Fleischer. "With Romney out, that leaves only 13 major GOP candidates in."
And David Sirota of the International Business Times took a moment to kick a bit of extra dirt on the eternal candidate's political grave.
"Mitt Romney has been a politician running for office since 1994 - 20 YEARS - and has won a total of one election," he tweets.
Some, however, weren't quite ready to close the book for good.
"This just sets up Mitt Romney to be the dark horse nominee out of a brokered convention," tweets Josh Barro of the New York Times.
After all, Richard Nixon - at the time a defeated Republican presidential candidate - also once definitively ruled out future political aspirations only to run again.
"You won't have Nixon to kick around anymore, because, gentlemen, this is my last press conference," he said after losing a race for the California governorship in 1962.
As it turns out, there were lots of press conferences - and kicking - still to come. Could the same be said for Mitt Romney?