Was Obama right to criticise Staples?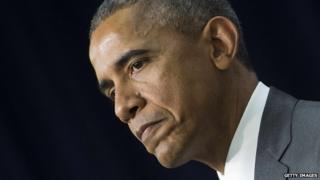 In an interview published on Tuesday, President Barack Obama scolded the US office supply giant Staples for using a rule in the Affordable Care Act as an excuse to limit its workers' hours.
Mr Obama's comments were prompted by a story Buzzfeed published on Monday quoting anonymous employees who said that the company had started rigorously enforcing a policy limiting part-time workers to no more than 25 hours a week.
Staples, they said, explained that the move was due to Obamacare's employee mandate, which went into effect at the beginning of the year.
The mandate requires large companies like Staples to provide health insurance for employees working 30 or more hours a week or face heavy fines. According to Buzzfeed, Staples threatened to fire anyone who worked more than 25 hours a week, and one worker was allegedly told that Mr Obama was responsible for the crackdown.
"I haven't looked at Staples' stock lately or what the compensation of the CEO is, but I suspect that they could well afford to treat their workers favourably and give them some basic financial security," the president said.
While Mr Obama said he understands small "mom-and-pop" stores who can't afford to pay their workers' benefits, he declined to sympathise with large corporations who point fingers at Obamacare when they cut back on wages.
"Shame on them," he said.
In a statement on Wednesday, Staples said Obama "appears not to have all the facts" because they say the policy limiting part-time hours wasn't the result of Obamacare.
"It's unfortunate that the president is attacking a company that provides more than 85,000 jobs and is a major taxpayer," Kirk Saville, a company spokesperson, told CNNMoney.
Despite Staples' claims that the policy is in no way tied to Obamacare, Buzzfeed's report seems to draw a clear enough connection.
"Before January, it was a smack on the wrist if anyone went over 25 hours - they got an email scolding them, saying, 'You went over 25, try not to do that'," says Alice, an anonymous employee quoted in their story. "But now it's become really serious… They've threatened to write up managers and every person that goes up over 25 hours."
Back when the legislation was being drafted, there were people on both sides of the aisle worried that the law would result in employers limiting hours in this way.
That's why, for CNBC's Jake Novak, none of this is a surprise.
"Does President Obama believe that 'shame on you' is a real policy?" he asks. "Is this all the administration had up its sleeve to counteract the cuts despite years of friendly and not-so-friendly warnings?"
Novak says it's not illegal for Staples to try to cut costs by avoiding the mandate's threshold, and he wonders if it's right for a president to single out a company for doing just that.
Hotair's Ed Morrissey agrees: "Staples executives are protecting the shareholders at whom Obama scoffs from paying large costs associated with the kind of employer-based policies that ObamaCare mandates by limiting their hours."
Not everyone is siding with the Massachusetts-based chain, however.
"The Staples story illustrates the environment of so many contemporary American workplaces, where employees are treated with contempt and suspicion while being told how much they're loved," writes the Washington Post's Paul Waldman.
He goes on to note that while Republicans in Congress have called for raising the cut-off for the healthcare mandate to 40 hours a week, that would only make it easier for companies to slightly trim the schedules of hourly workers and then drop their coverage.
More than the details of Obamacare, however, he says that this is yet another example of what's wrong with the country's health-insurance system, in which most people get their insurance through their employers.
"If we did that, people wouldn't have to rely on the generosity of their bosses, and we wouldn't have to argue about who's part-time and who's full-time," he writes.
Outside of politics, this controversy comes at a pivotal moment for Staples.
The company recently agreed to buy Office Depot, another huge office supply store chain, for $6.3bn (£4.1bn). Just two years ago Office Depot merged with the similarly-sized Office Max.
A merger is likely to draw attention from anti-trust regulators in the Federal Trade Commission, since the agency derailed an almost identical deal nearly two decades ago.
Seeing as Mr Obama nominated all five of the FTC commissioners, antagonising the White House is a terrible idea, writes Fortune's Dan Primacy. He says that even though the two should in theory be completely separate, Staples is asking the FTC to admit that their past ruling was an error and conditions in today's market have changed the situation.
"It's a high bar," Primacy writes. "Every little piece of positive PR helps. Having Obama basically call Staples greedy - and the company then responding by calling him ignorant - is not the sort of thing Staples should want in the recesses of FTC officials' minds when it comes time to vote."
If the FTC once again rules against Staples, US companies may see the moral of this story being that if a president calls you out, the best way to respond is to grin and bear it.