The Chicago election that could be bad news for Hillary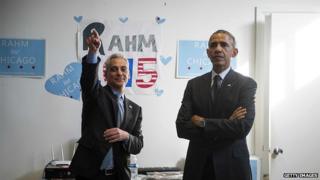 Mayoral races in the United States rarely make headlines beyond the local papers, but on Tuesday Democratic eyes across the US will be glued to the race in Chicago. It could prove to be an important bellwether for those seeking the party's presidential nomination in 2016.
When President Barack Obama visited his hometown last week, he was ostensibly there to declare the Pullman Historic District as a National Monument.
The speech was as much about history, however, as it was a political favour for Mr Obama's friend and former chief-of-staff, Chicago Mayor Rahm Emanuel.
The presidential designation commemorates America's first planned industrial city and will protect the buildings where many blacks worked and formed their first labour union in the 1920s.
Conveniently, that is the demographic that Mr Emanuel needs to court ahead of Tuesday's election. Although he is ahead in the polls, he needs to garner more than 50% of the vote to avoid a run-off that could be more volatile.
"Rahm hasn't just fought for a national park in Pullman, he's fought for new jobs and new opportunities for Pullman and for every Chicagoan in every neighbourhood," Mr Obama told the crowd.
Providing the most competition to the mayor, County Commissioner Jesus Garcia has taken up the populist liberal mantle championed by national figures like Massachusetts Senator Elizabeth Warren and New York Mayor Bill de Blasio.
Mr Garcia, a Mexican-American who moved to the US when he was 10 and previously served as an Illinois state senator, champions progressive liberal economic issues like income inequality, raising the minimum wage and strong teachers' unions.
He, like Ms Warren, is part of a populist faction within the Democratic Party that represents a liberal threat to establishment members like Mr Emmanuel.
As is typical of an established incumbent, Mr Emanuel has campaign coffers that dwarf his competitors - more than for times the combined amount that his four competitors have raised in their entire political careers, according to the Chicago Sun Times.
More than half of that money, says Greg Hinz of Crain's Chicago Business, has been imported from outside city limits. And a major analysis by the Chicago Tribune showed that much of his funding is the result of the mayor's business ties.
Undeterred by his relatively paltry campaign treasure, Mr Garcia has garnered support from several groups by seizing on Mr Emanuel's outside funding sources and employing other, more unorthodox strategies - such as making a meme of his signature facial hair.
"How dare you take such a risk at this time?" he scorned a barber threatening a trim of his trademark moustache. "I would lose my identity."
As the Washington Post's Sean Sullivan reports, this local race "has crystallised some of the deep internal divisions in the Democratic Party as it prepares for the 2016 presidential campaign".
If a runoff occurs, a second round pitting Mr Emanuel against Mr Garcia could boost the hopes of this left-wing faction and cast a national spotlight on the party's ideological split - a development that would be wholly unwelcome in the eyes of those Democrats who are more interested in presenting themselves as united going into next year's general election.
It's the type of internal dissention that could prove dangerous for Mr Emanuel's old friend Hillary Clinton (he served as an advisor to her husband in the 1990s), whose unannounced but likely candidacy is viewed with suspicion by some on the party's populist left.
Mr Garcia has already rebuked Ms Clinton, telling the Washington Post that Ms Warren "has been more forthcoming" on economic issues like income inequality.
It's the kind of political shot that the former secretary of state would likely prefer to not see repeated in an extended mayoral campaign.