Germany bolsters David Cameron's reform push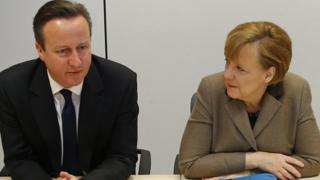 "Come on prime minister, what are you going to get?" That's been the question pursuing David Cameron since he promised to renegotiate Britain's relationship with Europe and put the package to an in/out referendum by the end of 2017 if the Conservatives win next year's general election.
And now, helpfully sandwiched between the Nick Clegg/Nigel Farage debates and two months before the European elections, comes a very helpful intervention from German Finance Minister Wolfgang Schaeuble.
Berlin is driving efforts to bind countries using the euro closer together. A swift, surgical change to Europe's treaties is Chancellor Angela Merkel's preference. And Germany has now made clear that any treaty change must "guarantee fairness" to the 10 EU countries outside the eurozone - including Britain.
In other words, there must be legal safeguards in place to make sure the single market works in the interests of all European Union countries, not just those with the single currency.
Diplomatic push
Britain has lavished huge diplomatic attention on Germany and it's clearly paying off. Berlin understands that David Cameron needs answers to that key question and is willing to help.
On the doorstep in the European elections, Conservative candidates will now point to this as evidence that Britain's interests within the EU can be protected.
The City of London too, will be reassured.
But these are early days. Soon there'll be a new set of MEPs, a new European Commission and the UK general election is more than a year away. And not all of Europe - particularly France - shares Germany's enthusiasm for treaty change.
Nor will this be enough on its own to satisfy Conservative MPs, who have been promised a return of powers from Brussels to London. Persuading Germany to agree to that - let alone the rest of the EU - by 2017 is a much tougher ask.