European elections: Luxembourg - in the EU heartland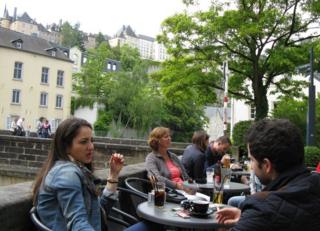 For a British visitor, Luxembourg provides some fascinating contrasts with the UK.
The Grand Duchy is tiny (population 0.5 million), the locals are multi-lingual, they are a short drive from four other countries - France, Belgium, Germany and the Netherlands… and they are at the heart of the European project.
You might expect some local resentment towards foreigners in a country dominated for centuries by European powers: the royals of Burgundy, Spain and the Netherlands, then the Emperor Napoleon and Nazi Germany.
But I found voters to be quite positive about immigration in Luxembourg City - where foreigners outnumber locals.
"We need people from outside to come here, to bring their money and cultural diversity," said Diane Neises, 25, an English teacher.
"This used to be a really small place, but now it's cosmopolitan. Fifty years ago it was really conservative Catholic. Now there are lots more cafes, shops for young people."
European crossroads
More than 100,000 people commute to work in Luxembourg daily from neighbouring countries.
Bookseller Jean-Claude Henkes, 48, said that for nearly 100 years Luxembourg had taken in lots of Italians and Portuguese: "We live with a multitude of foreigners, and I think that enriches a country."
Such views are music to the ears of EU officials, who champion freedom of movement in Europe.
And Luxembourg has done well out of the EU. It hosts thousands of well-paid EU staff, working at the Court of Justice, Court of Auditors and European Parliament Secretariat. An army of translators wrestles with the 24 official EU languages - Luxembourg is where many EU documents are published.
And the conservative former Prime Minister, Jean-Claude Juncker, is campaigning to get the top EU job - president of the European Commission.
Irritations
But Luxembourg's relations with the EU are not always cosy.
Banking secrecy has long attracted rich financiers and business executives. But the EU, under German pressure, has told Luxembourg banks to get in line with international standards.
"I think people here are in favour of the EU, but it's all hard to understand - Europe has got much bigger," said Laurent Bevilacqua, 30, a writer.
Leni Jungels, another young English teacher, said it was better to have the euro than still to be tied to the Belgian franc. "But some farmers here are annoyed with all the EU forms they have to fill in," she added.
And Jerry, a young office worker, said the economic downturn had made the EU less popular now.
"There's lots of things dictated from Brussels that we don't like so much," he said.
But don't hold your breath for any dramatic swings when the Luxembourg results are announced. Their six seats won't rock the Brussels boat.
Vote 2014