Farage and Le Pen in race to form Brussels groups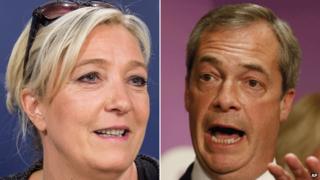 One week. That's how long political parties have left to form groups in the European Parliament.
And, oddly enough, Nigel Farage and Marine Le Pen - the two MEPs who made the biggest headlines only a few weeks ago - are running out of time.
They both won their countries' European elections in the UK and France - but the obstacles in the way of forming a political group in Brussels are many.
To be valid, a group needs 25 MEPs, and that is relatively straightforward.
But they have to be from at least seven different nationalities, and that is making the political dating game more complicated.
Numerous behind the scenes briefings are going on. EU officials have told the BBC that Ms Le Pen's National Front and Mr Farage's UKIP are just short of the seven they each need.
Eurosceptic parties gained 18% of the seats in the Parliament. But instead of teaming up, they split into three factions that refuse to work together.
As a result, Mr Farage and Ms Le Pen are both fighting over small right-wing parties that are yet to make up their minds. The two parties they seem interested in are the far-right Swedish Democrats and the populist Lithuanian Order and Justice. Each is made up of just two MEPs.
Alliances in the European Parliament matter because the bigger the group, the more influence - and money - that MEPs receive.
The new parliament will be formed in a few days, and those MEPs who do not belong to a group will not be given any powerful roles in committees.