Marianna Madia ice cream photo sparks Italy sexism row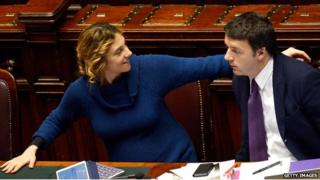 To most Italians, the sight of a 34-year-old woman eating an ice cream in a car would be almost entirely forgettable. Many Italians eat ice creams every day. Many of them eat their ice creams in their cars.
But the magazine Chi has concluded that a series of pictures of cabinet minister Marianna Madia eating an ice cream in the passenger seat of her car is worthy of some suggestive comment.
"She really knows how to work an ice cream," runs the magazine's large-print caption. The sexual suggestion is obvious.
The magazine is owned by former Prime Minister Silvio Berlusconi's media group, Mondadori.
He's a man who has made a point of expressing his own particular views on female attributes. Those views have often appealed to some Italian men, who would describe themselves as traditionalists.
But the magazine is now facing a backlash for its ministerial ice cream photos.
"There's still a long way to go for gender respect," says Laura Boldrini, Speaker of the Chamber of Deputies.
A number of Italians have now decided to post pictures of themselves eating ice creams, together with the hashtag #cisofareanchio (which translates as "I really know how to work it too".)
Marianna Madia has preferred to let others speak out on her behalf. She says she has more than enough to do running the Ministry of Public Administration and Simplification.
"I thank everyone for their support," Ms Madia told La Repubblica newspaper, "I don't think it's useful for me to add anything."
Italy's Journalists Federation has now launched an inquiry into the actions of Chi's editor, Alfonso Signorini. But the editor is unrepentant.
"I don't regret this at all," Mr Signorini told an Italian news programme.
"I defend my right to have fun and to let people have fun. An intelligent woman should not be offended. She should find this funny."
Mr Signorini goes on to accuse his country of double standards.
Italians made fun of Silvio Berlusconi's current partner Francesca Pascale, he argues, when she was filmed in a bikini in a music video eating an ice lolly, the less popular counterpart to Italian ice cream.
But, unfortunately for Mr Signorini, he is given little help from Ms Pascale.
"This is an unhappy event," she tells La Repubblica of the ice cream photos.
"Whoever attacks women, attacks me too."