Western leaders make beeline for Bulgaria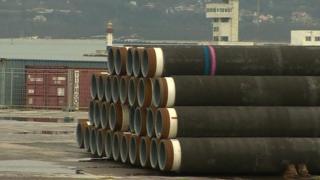 Bulgaria is in the international spotlight thanks to a flurry of international visits.
So what are UK Foreign Secretary Philip Hammond (on Wednesday), US Secretary of State John Kerry (on Thursday), and Nato Secretary General Jens Stoltenberg (later this month) looking for in Sofia, and will they find it?
Gas supplies, war in eastern Ukraine, international terrorism, migration - legal and illegal - and the parlous state of Bulgaria's defence forces provide most of the answers.
Mr Kerry's visit comes towards the end of a whirlwind trip to India and Geneva that culminates in France.
And the timing is significant. Last month, Russian President Vladimir Putin called off the key South Stream gas pipeline, accusing Bulgaria of bowing to EU and US pressure.
"Bulgaria is important to the US, as a frontier country," says Ruslan Stefanov, of the Center for the Study of Democracy in Sofia, "as the country that holds the key to Russia's influence on the Balkans and in Europe."
He believes the US has lost faith in the EU's ability to fend off Russian influence and sees Bulgaria as a "trusty US ally" while Russia still exerts power, especially over the country's energy policy.
"The best the US can do at this point in the short run is provide political reassurance to Bulgaria's authorities," he says.
Meanwhile, Prime Minister Boiko Borisov was in Brussels this week to lobby the European Commission for a new gas hub for Europe in Bulgaria. Russia's South Stream pipeline had been due to come ashore in Bulgaria, after crossing beneath the Black Sea.
Like other east European countries dependent on Russian gas, Bulgaria is pressing for a common EU energy policy, which would involve more north-south pipelines and interconnector stations - including one between Bulgaria and Greece.
Migration route
Nato has been pushing Bulgaria to increase its defence budget to 2% of GDP, as required under Nato membership. The Bulgarian military depends heavily on Russian spare parts and servicing, and on Greece to help patrol airspace.
On terrorism, Bulgaria is one of the countries crossed by would-be Islamist fighters on their way to Syria via Turkey.
Fritz-Joly Joachin, a French citizen detained by Bulgarian border services on a bus bound for Istanbul on 1 January, knew Cherif Kouachi, one of the brothers responsible for the attack on the French satirical magazine Charlie Hebdo.
According to French prosecutors, Mr Joachin belonged to the same Islamist network as the Kouachi brothers in Paris. He denies the charge, and says he was just going on holiday in Turkey with his girlfriend and three-year-old son.
"It is a major problem for our special services to control Islamist fighters travelling through Bulgaria unless we have concrete intelligence from our allies," Gen Kircho Kirov, former director of Bulgarian intelligence, told the BBC.
Another headache for the government in Sofia is migration into the country by Syrians, Afghans, Pakistanis and Iraqis.
Last year 38,500 people tried to enter Bulgaria illegally, according to government figures - double the number for 2013.
The Bulgarian government this week decided to erect another 82km (51 miles) of fencing along the Turkish border.
Ahead of the UK's general election in May, the subject of Bulgarian and Romanian citizens who work in the UK was also on the agenda when the UK foreign secretary visited Sofia.