Greece election: Germany counts cost as Syriza take power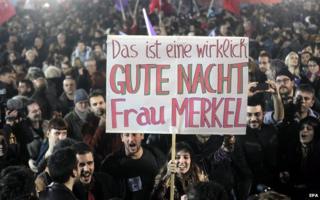 "Greece elects a euro monster!" exclaimed tabloid newspaper Bild. "How many billions is this going to cost us?"
And that pretty much sums up the mood here in Germany. The government in Berlin must wait to hear what kind of concessions the new Greek government might seek but already its position is clear.
"It is important for the new government to take action to foster Greece's continued economic recovery," said Angela Merkel's spokesman. "That also means Greece sticking to its previous commitments."
And, one by one, politicians from both sides of the governing coalition went on record to emphasise the same point: there's not much more Germany can offer in the way of concessions to Greece.
"We have already restructured the debt," one MP said to me. "We have very, very low interest rates. We have very long maturity."
There is a sense of frustration here.
Just a few days ago the European Central Bank announced its programme of quantitative easing. A measure that Germany has fiercely opposed. The Bundesbank was unequivocal: structural reform is the answer.
Its president is still making the same argument. The answer for Greece, says Jens Weidmann, lies in reforming its finances, its economy. A debt "haircut" is not a long-term solution.
'Let them go'
The Greek election result has raised two questions here.
First: what happens if Greece fails to get the concessions it wants and heads for the door of the eurozone?
"Let them go," says Michael Fuchs, a senior member of Chancellor Merkel's Christian Democrats. Blackmail, he added, does not work.
And commentators point out that the eurozone in 2015 is very different to the eurozone of a few years ago when the prospect of a "Grexit" had economists in a tailspin.
Now, it is argued, there is a stability mechanism in place and other countries are doing better. Greece leaving the euro would be undesirable but survivable.
And second: how seriously to take the success of populist parties like Syriza which seem to suggest that citizens are tiring of the eurozone?
Germany has one of its own. Angela Merkel's conservatives are losing votes to Alternative for Germany (AfD).
The party is not yet represented at federal level but it has done well at regional level. AfD is populist, anti-euro and gives a voice to those fed up with bailing out countries such as Greece.
On Tuesday, Mrs Merkel sent Alexis Tsipras a congratulatory message (in German).
"You are taking office at a difficult time in which you face a great responsibility," she wrote, adding that she wished him "much strength and success".
A carefully worded message. Because, despite speculation to the contrary, the German chancellor wants Greece to stay "part of our story".
As one commentator put it: "She doesn't want to go down in history as the German chancellor who broke up the eurozone."